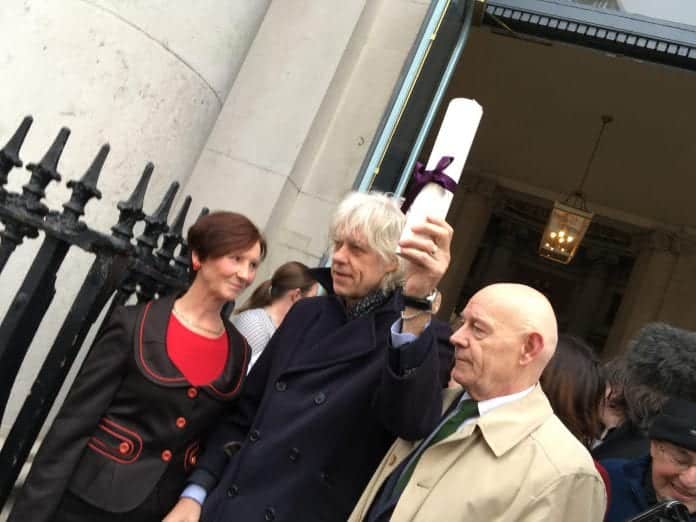 Bob Geldof has just visited City Hall to return his 'Freedom of the City' honour to Dublin as he believes Aung San Suu Kyi's association with the city 'shames us all'.
The Myanmar leader currently holds the same freedom award as the Boomtown Rats frontman in Dublin City, which he believes needs to be addressed.
We were there to hear what Bob had to say, watch below:
The move comes following Aung San Suu Kyi's failure to address allegations of ethnic cleansing against her country's Rohingya Muslims, as more than half a million Rohingya have fled the country following recent violence.
Live Aid founder, Geldof, promised to part with his award on Monday morning at City Hall, we spoke to the Lord Mayor of Dublin City, Mícheál MacDonncha who says: "I think it's a bit insulting."
There has been mixed reaction to Geldof's actions online, however Dublin City Councillors have commented through social media.
Bod Geldoff has never done anything for the City of Dublin to my mind, Happy to take back the Freedom of the City from him. He should never have got it in the first place. #BobGeldof

— Cllr Noeleen Reilly (@NoeleenReilly) November 13, 2017
Regarding #Bobgeldof To my knowledge in LG Act there is no mechanism for him to hand anything back. It's an honour bestowed by the City which he has already accepted. When we finish dealing with tomorrow night's city budget for the people of Dublin, I have no doubt we'll respond pic.twitter.com/9b2QgkXU1E

— Paul McAuliffe TD (@PaulMcauliffe) November 12, 2017
Fellow Irish artist, Bono, has also condemned Suu Kyi's actions, making a statement on U2's website: "[Her] failure to address the crisis is starting to look a lot like assent."
Feature Image: Back2Black Festival