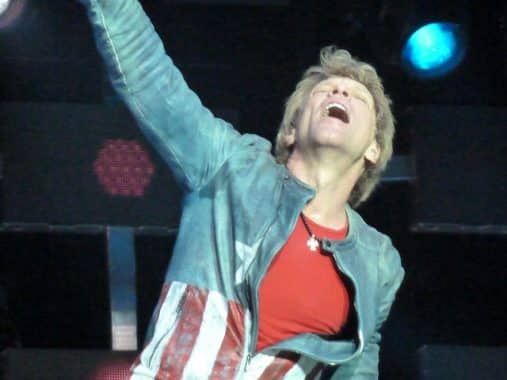 Bon Jovi  and Fleetwood mac are sticking by their people and helping out their former long time crew member.
Joe Dorosz, who spent decades as a member of the crew for a long list of major acts, has been dealing with a multitude of health problems.  He underwent spinal fusion surgery last year after being diagnosed with spinal stenosis, and suffered a haemorrhagic stroke shortly after his surgery.
With a long list of bills piling up, his family have started a gofundme account hoping to raise funds to cover the costs. Fleetwood Mac and Stevie Nicks have donated to the account, and Bon Jovi have taken it one step further by offering to match all the funds they raise.
Speaking on their website, the bands drummer Tico said "JD has worked with me from the beginning and we'll be missing him on the road this year. Any help you can send his way is appreciated."
His family have spoken about the struggle to keep on top of the medical costs on their gofundme page "no one can predict when he will be able to return to the life he loves and his source of income…the music industry.  His fiancé is doing what she can, financially, to ensure that the mortgage and household bills are take care of, but it is quite a load for her to take on by herself.  Then, there are the hospital bills.  Even with health insurance coverage, the medical bills that are streaming in are beyond overwhelming."
Throughout Dorosz's career, he focused on percussion and drums, often designing and fabricating custom designs for many of his clients.  He also toured as a stage manager and as a tech expert for Bon Jovi, Fleetwood Mac, the Dixie Chicks, Prince, Poison, the Backstreet Boys, Shania Twain, Barbra Streisand, Britney Spears, Whitney Houston and others.
Dorosz hopes to get back on tour with the Bon Jovi if his recovery progresses.
Meanwhile, former Bon Jovi guitarist Richie Sambora is set to take part in appear on a new Comedy Central series called The Comedy Jam, which features actors and comedians performing their favourite songs with a house band and guest artists.
Bon Jovi's tour in support of This House Is Not for Sale wraps up at the Pepsi Center in Denver on April 14th.
photo cred: Steve