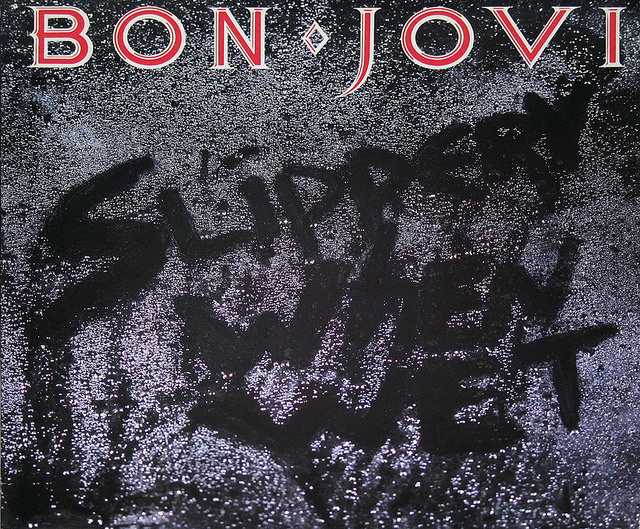 Slippery When Wet is the third studio album by Bon Jovi and it was released on August 18th 1986. It was the band's biggest album spawning the arena rock anthems 'Livin On A Prayer' &'  You Give Love a Bad Name'.
Slippery When Wet wasn't just a breakthrough album for Bon Jovi; it was a breakthrough for hair metal in general, marking the point where the genre officially entered the mainstream. Released in 1986, it presented a streamlined combination of pop, hard rock, and metal that appealed to everyone — especially girls, whom traditional heavy metal often ignored.
Th album was more indebted to pop than metal, though, and the band made no attempt to hide its commercial ambition, even hiring an outside songwriter to co-write two of the album's biggest singles. The trick paid off as Slippery When Wet became the best-selling album of 1987, beating out contenders like Appetite For Destruction, The Joshua Tree and Michael Jackson's Bad.
Part of the album's success could be attributed to Desmond Child, a behind-the-scenes songwriter who went on to write hits for Aerosmith, Michael Bolton, and Ricky Martin. With Child's help, Bon Jovi penned a pair of songs that would eventually define their career — "Living on a Prayer" and "You Give Love a Bad Name" — two teenage anthems that mixed Springsteen blue-collar narratives with straightforward, guitar-driven hooks.
The band's characters may have been down on their luck — they worked dead-end jobs, pined for dangerous women, and occasionally rode steel horses — but Bon Jovi never presented a problem that couldn't be cured by a good chorus, every one of which seemed to celebrate a glass-half-full mentality.
Elsewhere, the group turned to nostalgia, using songs like 'Never Say Goodbye' and 'Wild in the Streets' to re-create (or fabricate) an untamed, sex-filled youth that undoubtedly appealed to the band's teen audience. Bon Jovi wasn't nearly as hard-edged as Motley Crue or technically proficient as Van Halen, but the guys smartly played to their strengths, shunning the extremes for an accessible, middle-of-the-road approach that wound up appealing to more fans than most of their peers. "
"It's alright if you have a good time," Jon Bon Jovi sang on Slippery When Wet first track, 'Let It Rock',and those words essentially served as a mantra for the entire hair metal genre, whose carefree, party-heavy attitude became the soundtrack for the rest of the '80s.
Tracklist:
1. Let It Rock
2. You Give Love A Bad Name
3. Livin On A Prayer
4. Social Disease
5. Wanted Dead Or Alive
6. Raise Your Hands
7. Without Love
8. I'd Die For You
9. Never Say Goodbye
10. Wild in the Streets
Photo Credit: Vinylmeister