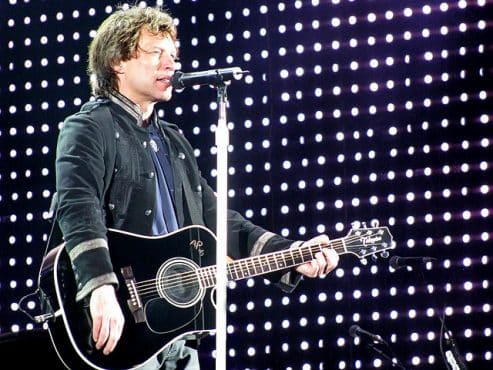 Phenomenal news for Bon Jovi fans, the American rockers are back in the studio working on new material.
The New Jersey lads say they have roughly twelve songs written and that the recording process has been fruitful.
Speaking to People magazine, during an acoustic in-store performance, Jon Bon Jovi discussed the band's upcoming album.
"I was in the studio all day working on the new record. I walked here from the studio," Jon said. "I'm about a dozen songs in."
The frontman spoke about the inspirations for the new record "I just read the paper, it gives you an opportunity to write something… It's early but I feel good."
No release date has been confirmed yet but it's likely the LP could be out before the end of the year or early in 2016.
The group's last LP was released in 2013, their twelfth record What About Now went to number 3 on the Irish album chart.
It's is highly unlikely former guitarist Richie Sambora will be contributing to the new material. The guitarist vanished from the line-up in 2013. Speculations were rife that a fight had occurred between Sambora and Jon, but the singer has down played any such rumours.
Speaking to Showbiz 411, the frontman said: "He quit. He's gone. No hard feelings. Being in a band isn't a life sentence."
Sambora is enjoying life as a solo artist, he is working on a new solo album and looks likely to tour is the summer.
Watch Bon Jovi's acoustic performance below.