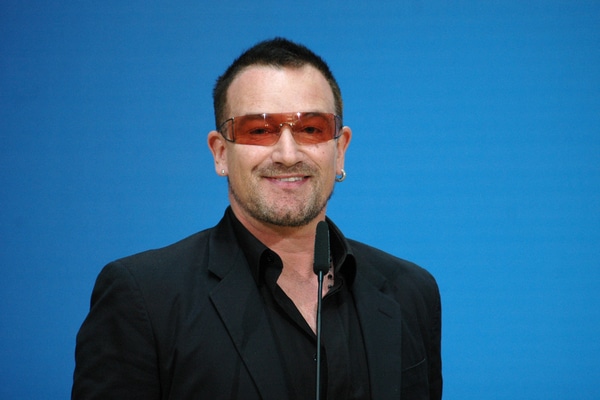 U2's Bono has joked that he is "very annoyed" over his friend Matt Damon's cult status in his hometown Dalkey.
Matt Damon had moved to Dalkey last year to shoot his film The Last Duel, just as the pandemic struck in March 2020. The Hollywood star later became a somewhat hero to the local residents at that time when he was forced to quarantine.
Damon also endeared himself to the locals when he was snapped holding a SuperValu shopping bag at a local swimming area. Many people have even suggested that the bag was full of cans. It later emerged that the bag was full of towels for his children.
The Last Duel hits the cinemas on October 14.
"The best time"
Speaking a few months ago, Damon had even said that he considered moving to Ireland following his stint last year.
"Probably in the back of my head. Like I definitely, when we did the lockdown, we started the lockdown we were in Ireland because we were shooting a movie", he said.
"It was so f***ing great", he added. "We loved it there so much and I was kind of in the back of my head, 'I could move here. I could live here.' It's beautiful".
On Dalkey, Damon also "It's this beautiful seaside town and it was beautiful". 
"We were shooting this movie that's going to come out later in the year called the Last Duel and half of it we shot in France and half in Ireland". 
"We stayed for three months. Because we got there and we'd rented all of these houses in this town, it was about a fifteen minute drive to the studio, it was this beautiful little town".
"I kind of looked around and we had a few people in our little group and we were like, 'well we've got all these houses for three months' so we just moved into these houses and just kind of took it over and had just the best time, the best time". 
"It's unbelievable"
Despite Damon's cult status among Dalkey, there is one local in particular who is not quite impressed.
Don't worry guys, he's only joking!!
"I've lived in this village, or next to this village, for 30 years – this f***** is there for three months and they make him the king of Dalkey!", Bono told GQ Magazine.
"He's caught in some kind of local photoshoot with a SuperValu plastic bag, and the rumour that he's carrying cans, and suddenly he's got all this credibility that some of us just are incapable of ever achieving". 
"He's beloved!", Bono insisted. "I mean, there'll be a statue of him there. I don't know what it was, and what he did. But I'm very annoyed about it. I'm not happy at all". 
March 2020 was quite a month, not only globally, but locally… as it was when actor #MattDamon arrived in Dalkey. This year Matt will join our line-up of guests + talk to @davidmcw about lockdown in fairy-tale Dalkey, and his love of Ireland. #DalkeyBookFestival pic.twitter.com/nrFzexUIcY

— Dalkey Book Festival (@dalkeybookfest) May 31, 2021
"free from self-consciousness"
On his long time friend Matt Damon, Bono added, "He has freedom. It's the most intoxicating thing of all. And that, very few very famous people have. He's free from self-consciousness". 
"For a man who looks in the mirror for a living, he's not even a little bit self-conscious, I've found. I mean, I think I've got freedom, but I'm self-conscious. When I walk into the newsagents, I can see myself walking into the newsagents, do you know what I mean? He's really himself".