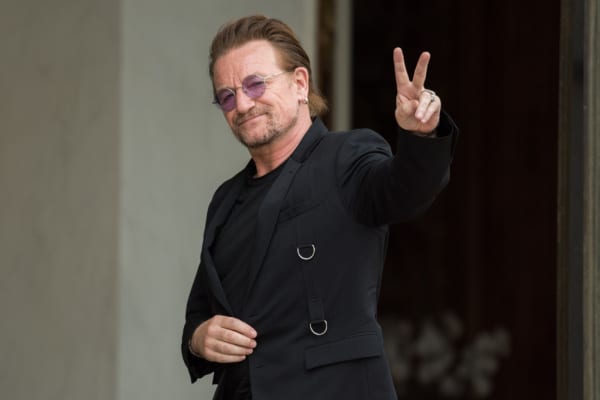 Bono surprised the students of his old school in Clontarf with a visit, before treating them to an extract from his forthcoming memoir.
Arriving on November 1, the U2 frontman's memoir: Surrender: 40 Songs, One Story will explore 40 tracks of the band's discography, and look at the life of the legendary singer.
It will be released via the publishing house Alfred A. Knopf. The audiobook will also arrive via Penguin Random House.
"The future is bright indeed"
Along with reading from his memoir, Bono also hinted that a documentary could also be in the works.
The singer later posed for a photograph alongside sixth year students from the Clontarf based school. The photo was later shared via the official U2 Twitter account.
"Was back in the library at Mount Temple," the caption read. "The future is bright indeed".
Was back in the library at Mount Temple. The future is bright indeed. pic.twitter.com/5AU33oExY1

— U2 (@U2) October 12, 2022
"It definitely gave everyone a bit of a buzz," one student also told the Irish Independent. "A few teachers came in to stand at the back and listen to him speaking so there was a good group there listening to him speaking for about an hour".
Along with 40 U2 tracks, the memoir will also see Bono speak about his late mother, who he claimed "never spoken of again" following her passing.
The singer's mother Iris died, after she collapsed at her father Ray's funeral. Bono, who's real name is Paul Hewson was only 14 years old when she died.
"I fear it was worse than that. That we rarely thought of her again. We were three Irish men, and we avoided the pain that we knew would come from thinking and speaking about her", Bono said.
Bono continued, "Even though it's Grandda's funeral, and even though Iris has fainted, we're kids, cousins, running around and laughing. Until Ruth, my mother's younger sister, bursts through the door. 'Iris is dying. She's had a stroke".
"Three days later Norman and I are brought into the hospital to say goodbye. She's alive but barely… Ruth is outside the hospital room, wailing, with my father, whose eyes have less life in them than my mother's. I enter the room at war with the universe, but Iris looks peaceful. It's hard to figure that a large part of her has already left. We hold her hand. There's a clicking sound, but we don't hear it".
November will also see Bono take to the 3Arena stage for "an evening of words, music and some mischief", as part of his memoir. It will take place on November 21. More on that here.