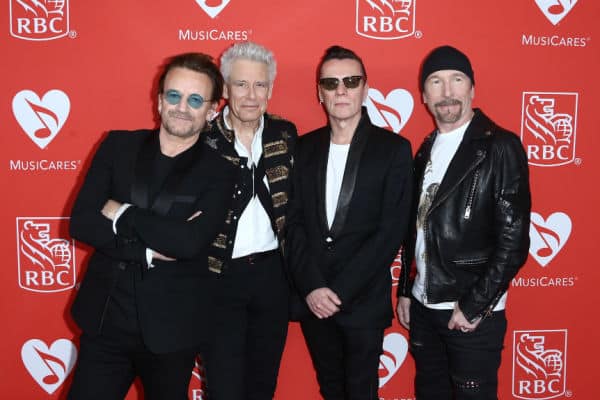 U2 frontman Bono has said that he is "amazed" that his band are "still going", having admitted that they "split up all the time".
In a new interview, the singer offered an insight in the band and its members, revealing that himself, The Edge, Adam Clayton and Larry Mullen Jr have had their fair share of disagreements and arguments over the years.
Despite threatening to quit and split up on several occasions, Bono has added that they have always managed to put their differences aside and continue with the band.
"I'm amazed we're still going", he conceded. "Being in a band is tricky. The older you get, it gets even trickier, because when you grow up together, you're used to taking bits out of each other". 
"You're as good as the arguments you get, but at a certain point, when people are doing well, the male loves to be the lord of his own domain, you know? It's rough. And you can just imagine why people say, 'Ah, f*** this, I'm outta here". 
"grateful"
Despite the arguments and the disagreements, the lead singer has insisted that he is "always grateful" that the band have reconciled and stayed together.
"I mean, I really genuinely expect that and the band breaks up all the time", he said. "It's the truth. Then we get back together and I'm grateful we do". 
It would appear that U2 are continuing to go from strength to strength, as they have already announced plans to release a new album full of "reimagined and re-recorded" tracks, which will arrive on St Patrick's Day.
This album will include a reimagined version of the band's 2000 hit 'Beautiful Day'. Check that out and Nova's report here.
Elsewhere, U2 also confirmed earlier this month that they were in advanced talks to launch an Elvis style Las Vegas residency for later this year. More on this here.