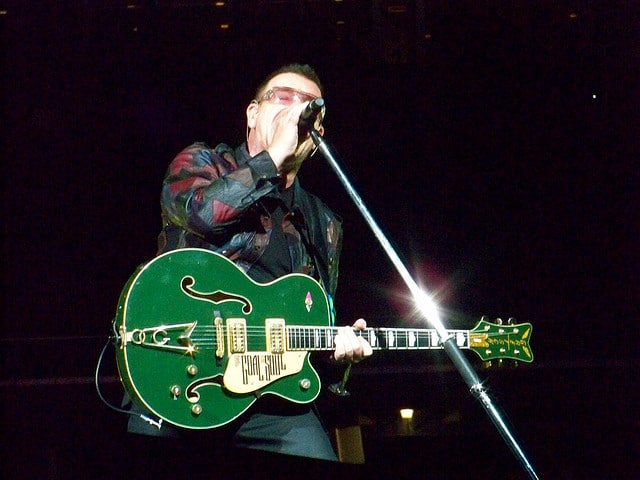 It's pretty horrendous news for U2's frontman Bono, the singer posted a blog on the band's website explaining his current situation.
Over the festive period, Bono wrote in detail about his bicycle calamity and revealed that his recovery might be more complicated than he first thought.
The Irish rocker made the startling revelation on U2.com, saying "recovery has been more difficult than I thought," but his fellow bandmates didn't seem to be showing him much sympathy.
"As I write this, it is not clear that I will ever play guitar again. The band have reminded me that neither they nor Western civilization are depending on this.
"I personally would very much miss fingering the frets of my green Irish falcon or my (RED) Gretsch… But then does the Edge, or Jimmy Page, or any guitarist you know have a titanium elbow, as I do now? I'm all elbows, I am."
Granted Bono may not be the best guitar player in the world, but i'd imagine that playing guitar is pivotal when he is writing songs.
Bono will need 3-6 months to recover from his bike accident, while the frontman was cycling around New York's Central Park, he lost control of his bicycle trying to avoid another cyclist and came crashing down on his arm.
The frontman underwent five hours of surgery following his bicycle calamity. Rolling Stone reports that Bono suffered several serious injuries from the incident, including a "facial fracture involving the orbit of his eye and broke the little finger on his left hand".
"[Bono] was taken emergently to the operating room…where the elbow was washed out and debrided, a nerve trapped in the break was moved and the bone was repaired with three metal plates and 18 screws," revealed orthopedic trauma surgeon Dean Lorich MD.
In a post titled 'Little Book of a Big Year: Bono's A to Z review of 2014', the singer said that too much exercise, to make up for bad habits, was the cause of his fall.
"On the day of my 50th birthday I received an injury because I was over indulging in exercise boxing and cycling, which was itself an overcompensation for overindulging on alcohol coming up to the big birthday."
"I promised myself I would be more mindful of my limits, but just four years on, it happened again-a massive injury I can't blame on anyone but myself, mainly because I blanked out on impact and have no memory of how I ended up in New York Presbyterian with my humerus bone sticking through my leather jacket. Very punk rock as injuries go."
Even after listing all his injuries, the Irish singer claimed that what was really hurt was his pride.
"I broke my hand, my shoulder, my elbow and my face but the real injury this year was to my Irish pride as it was discovered that under my tracksuit I was wearing yellow and black Lycra cycling shorts. Yes, LYCRA. This is not very rock 'n' roll."
As for the question, will Bono be performing this year? It looks highly unlikely for the first half of 2015. "I have cancelled every public appearance and decided this missive is all the communication I can manage for the first half of 2015, beyond muttering and singing to myself of course."
Let's hope Bono makes a full and speedy recovery.