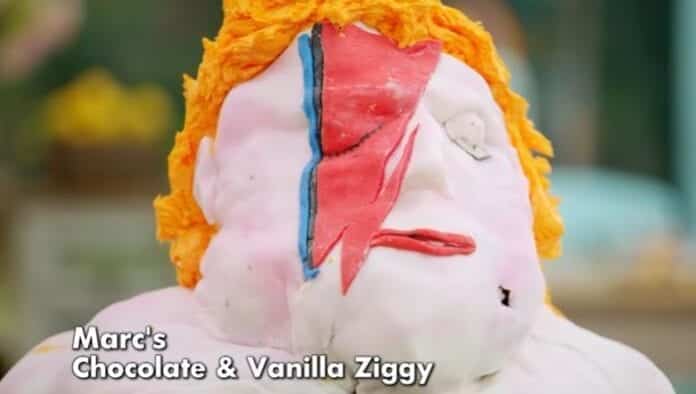 David Bowie's son has shared his reaction to the now infamous Aladdin Sane cake from Great British Bake Off. Starman son and esteemed movie director, Duncan Jones shared a post about the baking competition on Twitter.
This season's premier episode of the GBBO saw contestants attempt to immortalise their idols in the form of a cake. Busts of famous heads such as Sir David Attenborough, Freddie Mercury and Blink 182's Tom DeLonge captivated the show's viewers.
However, it was one bust in particular that caught the attention of Duncan Jones. GBBO contestant Marc Elliott created a chocolate and vanilla bust of Duncan's late father, from the 1973 album Aladdin Sane. Duncan took to Twitter to share his thoughts and poke a little fun at the attempt.
"Just caught this episode of The Great British Baking Show………."
Duncan then posted a picture of the botched restoration of the Ecce Homo painting of Jesus Christ, which became an internet phenomenon in 2012, with the caption: "Posted with love."
Duncan was more critical in his response to Bowie biopic
Last year, Duncan was more critical over plans for the new biopic about his late father, Stardust, starring Johnny Flynn.
"Pretty certain nobody has been granted music rights for ANY biopic… I would know," he wrote on Twitter." He added: "I'm not saying this movie is not happening. I honestly wouldn't know. I'm saying that as it stands, this movie won't have any of dad's music in it, & I can't imagine that changing.
"If you want to see a biopic without his music or the families blessing, that's up to the audience."
Thankfully, Duncan was a little kinder with his critiquing towards contestant Marc.
Other notable creations on the episode were busts of Louis Theroux, blink-182's Tom DeLonge, Charles Darwin, Lupita Nyong'o and Bob Marley. When the show aired, DeLonge reacted to his cake's likeness by sharing the image on Instagram and writing:
"When I was younger, and needed the money, I did a few hundred adult films. This looks EXACTLY like me at the time. EXACTLY. #Cake"
In other Bowie news, Morrisey and David Bowie's live cover of T-Rex's 'Cosmic Dancer' has been officially released. has been officially released.