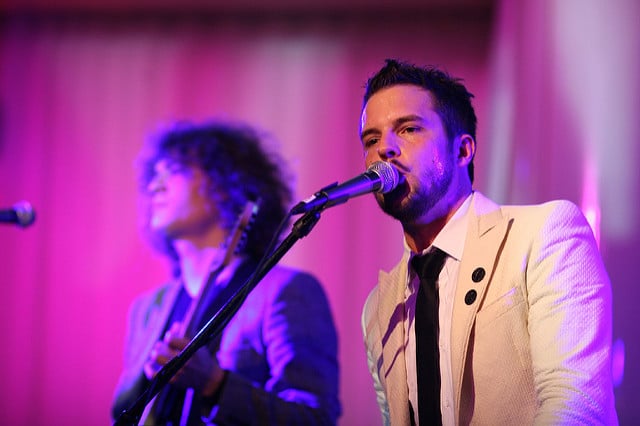 Brandon Flowers has said that he hopes fans won't be disappointed by The Killers' new touring line-up.
The Killers' touring line-up will now feature only two of the band's original line-up. It was announced last month that guitarist Dave Keuning would be taking a break from touring with The Killers so he could spend time with his family. The announcement followed Mark Stoermer's departure from playing with the band in 2016 so he could go to university.
The band are due to embark on an arena tour of the UK and Ireland in November. However, the band's live line-up won't be completely new, as Flower's explained during the announcement of Keuning's departure.
"And worry not, we will not be performing as a two piece. As our fans have seen, the live line-up has grown over the years. Both Ted and Jake have been in the mix for a very long time (since Sam's Town and Battle Born). Hell, we even have 3 background singers now!"
However, Flowers is still worried about the new change and how their fans will react. Speaking to The Daily Star, he said "There was no real perfect way to handle it."
The frontman added, "I hope that people come to the gigs and aren't let down because a lot of heart is still going into these shows and a lot of blood, sweat and tears went into this album."
The recent change hasn't stopped the band, and they are still eager to keep going. Ronnie Vannucci Jr. told the paper "Five years is a long time between albums, I look at the work other bands put out, maybe we haven't done enough."
He added, "There's more to come, because I wouldn't be happy if this was it, but it's hard to get four people on schedule."
The Killers will be playing Dublin's 3Arena on 16th of November.
Photo Cred: Thomas Hawk