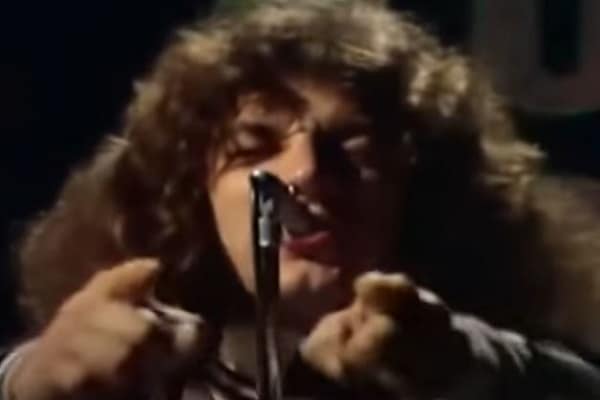 Three tv performances by Brian Johnson's band, Georgie have been uploaded to his YouTube channel, Brian Johnson TV. UK Top 10 hit, All Because Of You, a live performance of Goodbye Love, and an end of show performance with FOGG all feature.
The band's 1973 performance of All Because Of You had taken place while promoting their debut album, Hope You Like It. That album released via EMI and also featured Keep on Rockin, and their top 40 hit, Don't Do That. The second is a live performance of Brian and the band on the West German music program Pop '75, playing its 1975 hit, Goodbye Love.
In the third and latest video, Geordie and FOGG see out the show together, in a classic live performance. The show took place in March 1975 on the North East music TV classic series, Geordie Scene. The songs are product of the times and reminiscent of other rock bands, such as a toned down KISS.
Brian and Scott crossed paths previously
During an interview on 95.5 KLOS's New & Approved series, AC/DC guitarist Angus Young told of how the late, great Bon Scott first met Brian. As Geordie were backing a band featuring Scott as frontman, the late singer had the chance to see history in the making.
The guitarist said Bon had been in a band that were opening for Brian's band, Geordie. Bon was blown away, watching Brian howling and yelling out the band's hits, before the Geordie frontman fell to the floor. What Bon thought was the best act he had seen, turned out to be an attack of appendicitis. "But Bon thought it was part of the act," Angus continued. "He thought, 'This guy is incredible.' 'And he was still hittin' these high notes.'"
Brian has also spoke about crossing paths with Bon, in an interview with the New York Post in 2011. The singer said, "I met Bon in 1973 or 1974. His band was supporting my band, Geordie. I had a terrible case of appendicitis and I went down on my side, kicking and going, 'Ooh!' But I kept on singing. Apparently, he told the boys when he joined AC/DC, 'I saw this guy Brian Johnson sing, and he was great. He was on the floor, kicking and screaming — what an act!' Of course, it wasn't an act. I was really ill."