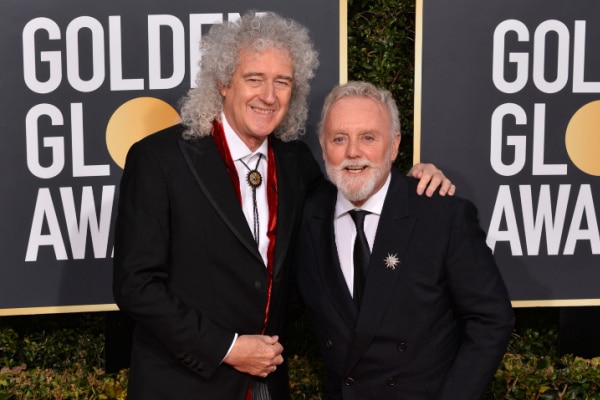 Queen founding members Brian May and Roger Taylor joined Foo Fighters on stage as part of the tribute concert, honouring the late drummer Taylor Hawkins at Wembley over the weekend.
This on stage merging of Queen and Foo Fighters began with archival footage being show of Hawkins himself. This footage was shown on the stages' screens.
Taylor Hawkins was a long time admirer of the band and the drummer would often take over the mic from Dave Grohl to share a live cover of Queen's 'Somebody To Love' at many Foos concerts.
After hyping the crowd with an imitation of Freddie Mercury's iconic "ay-oh" chant, Hawkins can also be heard saying "When I was 10 years old, my older sister took me to go see Queen in concert – the first concert I ever saw – and I watched the fucking drummer, and I said, 'I wanna fucking be him, I wanna do that'". 
Queen Join Foos On Stage For Live Set 
Queen's Brian May and Roger Taylor joined Dave Grohl and co for a set of classic tracks from the rock band.
This live set saw this new supergroup perform tracks 'We Will Rock You', 'I'm In Love With My Car', 'Under Pressure', 'Somebody To Love', and 'Love Of My Life'. 
'We Will Rock You' saw Roger Taylor joined on stage by his son Rufus who played drums, while Luke Spiller of the Struts starred as lead vocalist.
Taylor was on vocals for 'I'm In Love With My Car', while Justin Hawkins took to the stage for 'Under Pressure'.
Dave Grohl then welcomed Eurovision singer Sam Ryder onto the stage for 'Somebody To Love'. The Foos singer revealed that it was difficult to find the right vocalist for that track, as Hawkins also sang that song.
"It might have been Roger that had this idea," Grohl told the audience.
"Roger showed us a clip of someone singing along to this next song, and we made one phone call, and within 20 minutes, this person told us that he would come here tonight to sing it with us". 
"On this exact spot"
Brian May finished off the set with a live acoustic performance of 'Love Of My Life'.
"I did not write this song, it was written by a young boy called Freddie Mercury", Brian May told the audience. "And in 1986, we were on this exact spot, singing this song together". 
"And in 1992, exactly 30 years ago, we said goodbye to Freddie in a style similar to this – so I know that Freddie would be very happy to use this song to honour Taylor Hawkins. But here's the deal: I don't sing this song, we all sing this song together". 
This live performance at Wembley also saw Taylor Hawkins' son Shane deliver a live performance of Foos track 'My Hero'. Check that out here.