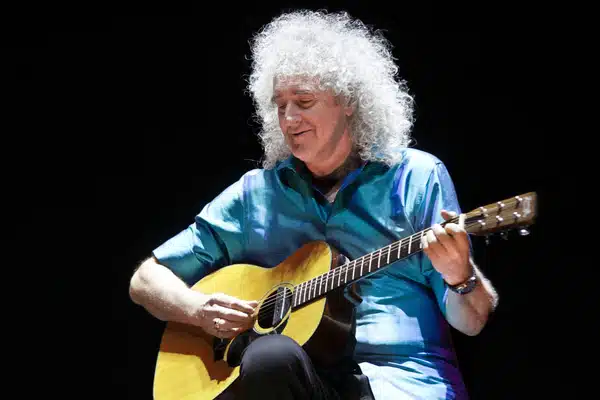 Brian May made a surprise appearance this week at the We Will Rock You musical as it kicked off its UK tour at Kings Theatre in Portsmouth.
The show, a jukebox musical comprised of songs from the hit band Queen, was originally meant to start touring, but was delayed after the onset of the Covid-19 pandemic. 
May made his appearance during the show's finale number – a rendition of Queen's 'Bohemian Rhapsody'. 
Jack Edwards, the artistic director at the Kings Theatre, described the moment as "incredible".
Edwards and the rest of the theatre's staff were only given a few hours notice ahead of May's arrival at Tuesday night's performance. 
"To have Brian May here at the Kings Theatre – it was a real coup. It was phenomenal – the audience went absolutely wild," Mr Edwards added.
We Will Rock You is one of the first shows to grace the Kings Theatre stage since they fully reopened after lockdown restrictions eased last month. 
"It feels like it's getting back to normal – people just want to be entertained and what better way than to come to the theatre and get the shock of your life?" the director said.
Actor Dominic Booth, who plays the part of Swing in the show, later took to social media to post about the moment, writing that singing Bohemian Rhapsody with Brian May was "a ONCE in a lifetime opportunity and I will treasure it forever!".
"I'm not over it, I don't think I ever will be over it," he added.
For many of the show's cast members, Tuesday's performance was their first welcome back to live performances after the pandemic cancelled their 2020 tour. 
Ahead of the show, writer and director Ben Elton reflected on the challenges the cast and crew have faced over the last two years: "We've been in mourning for our culture so to come back and see the wires and the bells and the whistles and the crew all working – we're back at work doing what we do."
We Will Rock You is a show designed to highlight hits from Queen's discography including classics like Bohemian Rhapsody, Radio Ga Ga, and Another One Bites The Dust, among others. 
The production is currently one of the West End's longest running musicals and has been seen by more than 16 million theatre-goers in 28 countries around the world.