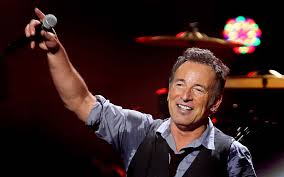 Bruce Springsteen was joined by Pearl Jam's Eddie Vedder to cover AC/DC's "Highway To Hell" at his recent concert in Melbourne Australia on February 15th.
Bruce opened his set by playing "Highway To Hell" to his adoring fans accompanied by Vedder and also Rage Against The Machine's drummer, Tom Morello.
Vedder then performed "Darkness On The Edge Of Town" as the second song of the set.
De ja vu you think?
Well you would be correct, we covered the story that Bruce had opened his set at the Perth Arena with "Highway To Hell" on February 6th. The song was a tribute to Bon Scott, the original frontman of AC/DC who grew up near Perth and "Highway To Hell" was the final album he recorded before his untimely death in 1980.
Needless to say that the fans were delighted with the Boss's choice of opening song.