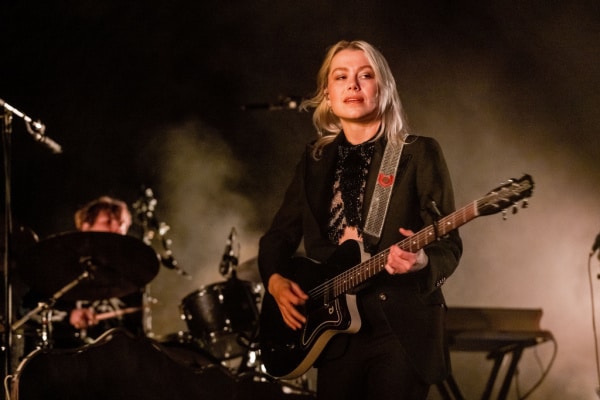 It has been confirmed that singer Phoebe Bridgers will perform at two screenings of 'The Nightmare Before Christmas' in London this December.
Alongside a live musical accopaniment, Bridgers will take to the stage at London's OVO Arena at Wembley, which will see her provide the voice for Sally from Tim Burton's classic. Tickets for the show are on sale here.
Jack Skellington will once again be voiced by Danny Elfman. Elfman had composed the lyrics, music and score for the original 1993 film.
This performance will also include vocals from the likes of Fletcher Sheridan, Baraka May, Greg Proops, Randy Crenshaw, and Angie Jaree. This show will also see Ken Page reprise his role as Oogie Boogie.
Elfman had previously performed a handful of tracks from the 1993 classic during his sets at the Coachella Festival earlier this Summer.
More on this regarding Bridgers' performances at these shows here.
Bridgers Shares Special Metallica Cover
Last August, Phoebe Bridgers released a special cover of Metallica's track 'Nothing Else Matters'.
The track itself also featured on the special Metallica tribute album, in honour of their iconic Black Album from the 1990s.
"It was just so fun to take a part in it," Bridgers said of her contribution to the tribute album. "I feel like my version almost sounds baroque. Literally, James Hetfield does all sorts of weird octave jumps and stuff that I can't do, and I almost have a Billie Eilish approach of right by the microphone, performing it the opposite of them, which was really fun to lean into".
More on this story from Nova here.
Back in May, Phoebe Bridgers also shared that she had an abortion the previous year.
Revealing this news, in response to the US Supreme Court's ruling on the issue last year, Bridgers wrote, "I had an abortion in October of last year while I was on tour", Bridgers wrote. "I went to Planned Parenthood where they gave me the abortion pill. It was easy. Everyone deserves that kind of access".