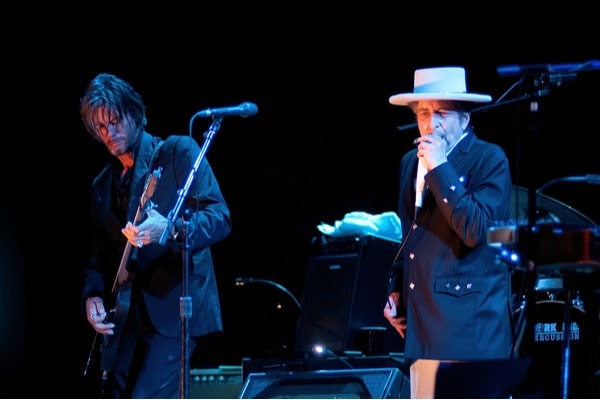 It has been confirmed that Jeff Bridges and Helen Mirren will read chapters from Bob Dylan's forthcoming essay collection.
This collection which is titled The Philosophy of Modern Song, will be released on November 1, and will also see chapters read Oscar Isaac, Steve Buscemi, and Sissy Spacek.
Containing more than 60 essays, they have been written by Bob Dylan about songs from artists including Hank Williams, Stephen Foster, Nina Simone, and Elvis Costello.
Bob Dylan will also be reading parts of the audiobook himself. However, he will be reading small introductions to the chapters, as opposed to full chapters.
The book's publisher Simon and Schuster have described these pieces as "a series of dream-like riffs that, taken together, resemble an epic poem and add to the work's transcendence".  
"an international celebration"
Following the initial announcement of the forthcoming Dylan collection back in March, Simon & Schuster released this statement.
"The publication of Bob Dylan's kaleidoscopically brilliant work will be an international celebration of songs by one of the greatest artists of our time", their CEO Jonathon Karp said.
"The Philosophy of Modern Song could only have been written by Bob Dylan. His voice is unique, and his work conveys his deep appreciation and understanding of songs, the people who bring those songs to life, and what songs mean to all of us". 
Later this year, Bob Dylan announced that he will be taking a trip to Ireland for a live performance at Dublin's 3Arena in November. This is part of the singer's 'Rough and Rowdy Ways' Tour. 
Bob Dylan has been regarded as one of the greatest songwriters of all time, selling over 125 million records worldwide.
Bob Dylan has added four new dates in England and Ireland to his fall schedule. Tickets go on sale Monday, September 5.

See all upcoming concert dates at https://t.co/oNa4cWaknX

— Bob Dylan (@bobdylan) September 2, 2022
Last month, another of Bob Dylan's tracks 'Knockin On Heaven's Door' was covered by Metallica's Jason Newsted.
The track was performed by Newsted's Chophouse Band at Skaneatles Field Days at Austin Park. Check out the cover here.