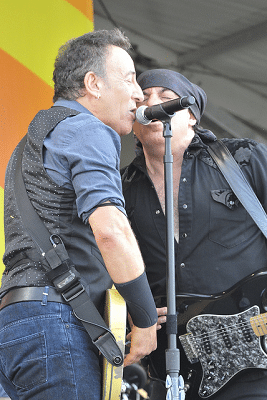 Bruce Springsteen is set to make his acting debut on the next season of Netflix's 'Lilyhammer'.
The Boss will appear in the third season of the series, which stars Springsteen's E Street Band member Steven Van Zandt.
Lilyhammer is about a fictional New York gangster, Frank "The Fixer" Tagliano (Steven Van Zandt), trying to start a new life in isolated Lillehammer in Norway. Frank The Fixer, is part of the Witness Protection Program and moves to the tiny village to escape the mob.
The town's name might ring a bell with some of you, Lillehammer was the host of the Winter Olympics in 1994. Tagliano certainly stands out in the Nordic town with his New York accent but does his best to fit in with corny Christmas jumpers and woolly hats.
Billboard reports, Springsteen will play a mortuary owner in the series, Bruce previously starred briefly in the cult classic 'High Fidelity'. As well as, going topless in his ten minute short film for the track 'Hunter Of Invisible Game', taken from his last LP High Hopes. The film has a very Cormac McCarthy 'The Road' wilderness setting.
Watch the movie Hunter Of Invisible Game here.
Van Zandt is most recognisable from his role in The Sopranos as Silvio Dante, the consigliere or right-hand man to Tony Soprano. Van Zandt's Sopranos co-star Tony Sirico (Paulie "Walnuts" Gualtieri) is also reportedly joining the series, playing a recurring role as a priest.
In 1975, during the recording sessions for Born to Run, Springsteen called on Van Zandt and his encyclopedic knowledge of soul music for help with the arrangement for the horn part for 'Tenth Avenue Freeze-Out'. In the Wings for Wheels documentary, Springsteen revealed that Van Zandt was partially responsible for the signature guitar line in 'Born to Run', saying it was "Arguably Steve's greatest contribution to my music."
Stevie's first tour was Born To Run 1975-1977, he continued to play with Bruce and The E Street Band over the intervening years, continuing up to the latest tour for High Hopes in 2014.