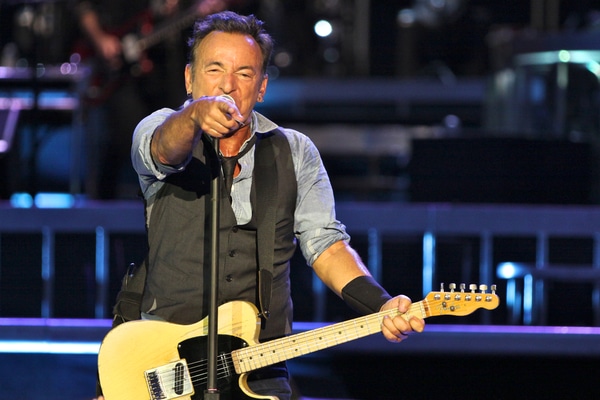 Along with singer Jennifer Hudson, Bruce Springsteen and Paul Simon have been announced as the headliners for a special "homecoming" concert at the Great Lawn of New York's Central Park later this summer.
The concert, expected to be scheduled for late August, was announced by New York's Mayor Bill de Blasio during a video press conference.
"This is going to be one of the greatest Central Park concerts in history," de Blasio promised. "This is something for the ages."
Referencing Springsteen's roots in neighbouring state New Jersey, the New York Mayor joked "Nobody's perfect," but emphasised how the singer/songwriter "is beloved in New York City in an extraordinary way."
Springsteen's one-man autobiographical show 'Springsteen on Broadway' resumed in New York last month, with the rocker taking to the stage at the city's St. James Theatre for a 31-show run through to September. The show sees Springsteen performing his music while reciting tales and anecdotes from his life. A film of the show is available for viewing on streaming service Netflix.
Backed by the E Street Band, Springsteen previously played a gig in Central Park in 1974, though as a supporting act to singer Anne Murray, who was upstaged by The Boss's 80-minute set. That event would be the last time Springsteen played a gig he wasn't headlining.
Paul Simon's inclusion on the bill comes as a surprise, as the singer/songwriter – who is also a New Jersey native, yet beloved in New York City – completed a "farewell" tour in 2018.
Simon is no stranger to Central Park. In 1981 he reunited with Art Garfunkel for a free benefit concert to raise funds for the then dilapidated park. On that occasion the duo played before a mammoth crowd of 500,000 fans. The concert was filmed for TV and later released as a bestselling live album. A decade later in 1991 Simon returned to Central Park as a solo artist. While the concert was a success with 600,000 fans reportedly in attendance, the live album subsequently released failed to make a dent in the Billboard charts.
Live music has only recently returned to the Big Apple, with rockers Foo Fighters playing a "reopening" concert at Madison Square Garden last month. The concert, which featured a fully vaccinated audience, was the first full capacity live music event in New York City since the beginning of the pandemic. June also saw a full capacity concert at the city's Irving Plaza headlined by The Strokes.
The upcoming Central Park concert, which is being produced by veteran booker Clive Davis, is expected to announce more performers in the coming weeks. According to the New York Times, punk poet Patti Smith is rumoured to appear for a duet with Springsteen.
The crowd will be significantly smaller than previous concerts held in the iconic Manhattan park, with a limited capacity of just over 60,000. Concert-goers will be divided into separated vaccinated and non-vaccinated sections.