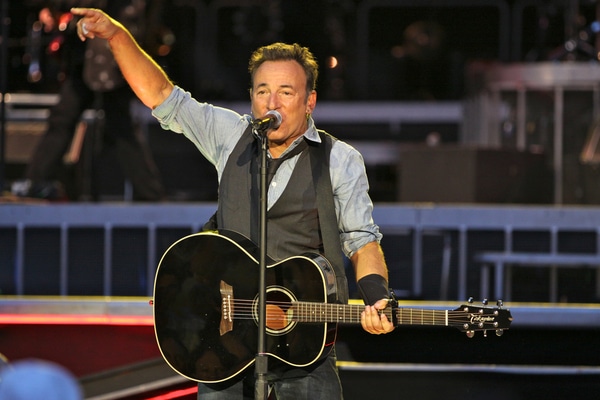 Bruce Springsteen has sold the publishing rights to his back catalogue to Sony Music in a deal worth $500 million.
The deal gives Sony Music control of both Springsteen's masters and his back catalogue of 20 studio albums, 23 live albums, seven EPS and over 300 songs.
Ever since his 1973 debut Greetings From Asbury Park, N.J., Springsteen has released his output through Columbia Records, an imprint of Sony Music Entertainment.
It had been rumoured that Springsteen would be willing to sell his publishing rights to Sony Music for a fee higher than $350 million, but has earned considerably more than that figure.
Springsteen is the latest artist to cash in on their back catalogue in recent years. Last December Universal Music paid $300 million to acquire Bob Dylan's body of work. UK investment fund paid $150 million for a 50% share of Neil Young's catalogue. David Bowie's estate is said to be on the verge of selling the late artist's catalogue for a fee of $200 million.
Why are such large sums being paid? Well, many believe that it's only a matter of time before the streaming model is revamped to ensure artists receive a larger share of royalties. By acquiring an artist's entire catalogue, labels can hold onto the profits themselves. While it makes sense for younger artists to hold onto their rights and scoop the financial rewards throughout their career, for aging artists like Springsteen, Dylan and Young, a large financial payout is difficult to turn down.
Owning an artist's entire catalogue gives the purchaser further options, such as using their songs in movies, TV shows and commercials, or allowing other signed artists to release cover versions.
Don't expect Springsteen to rest on his laurels when the cheque comes through. On Monday night, December 13th, took to the stage at The Town Hall in New York City for a special set with Steve Earle and the Dukes.
The performance was part of the seventh annual John Henry's Friends benefit concert, which raises money for children with autism.
Springsteen and Earle performed for 20 minutes, kicking off with Darkness on the Edge of Town. The pair also performed The Promised Land, Glory Days and Pink Cadillac. The Boss later joined the benefit's performers fro a closing performance of Crosby, Stills, Nash & Young's Teach Your Children.
The benefit raised over $100,000 for the cause.