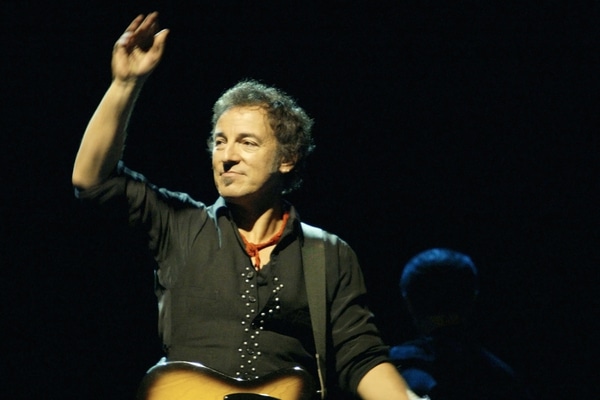 A new film will document Bruce Springsteen and the E Street Band's performances from 1979's No Nukes concert series.
In the 1970s, with no sign of Cold War tensions easing, fears around nuclear weaponry and energy were mounting. Determined to take a stand, musicians Jackson Browne, Graham Nash, Bonnie Raitt and John Hall formed MUSE – Musicians United for Safe Energy.
To raise public awareness of the threat of nuclear power, MUSE organised a series of five concerts in 1979.
The concerts were held under the banner of 'No Nukes' in New York's Madison Square Garden. Following their conclusion, 200,000 protesters gathered for an anti-nuclear rally in New York City.
Along with the four MUSE founders, the concerts featured performances by the likes of Tom Petty and the Heartbreakers, The Doobie Brothers, James Taylor, Ry Cooder and Crosby, Stills & Nash.
Backed by the E Street Band, Springsteen played two of the five nights. Springsteen debuted his now classic The River at the shows. The setlist also included Sherry Darling, Prove It All Night, Thunder Road, Detroit Medley, Quarter to Three, Jungleland, Rave On and a cover of the classic ballad Stay, which saw Springsteen joined by Jackson Browne, Tom Petty and Rosemary Butler.
The five concerts were recorded with highlights released in 1980 as a film and live album, both titled No Nukes.
The album featured Springsteen's performance of Stay and his Detroit medley, a medley of three classic Detroit rock tunes – Devil with the Blue Dress, Good Golly Miss Molly and Jenny Take a Ride. The film included Springsteen's debut performance of The River, along with Thunder Road and Quarter to Three.
Titled The Legendary 1979 No Nukes Concerts, the new documentary will treat Springsteen fans to previously unseen footage of his two performances. Springsteen's longtime collaborator Thom Zimny edited the footage from the original 16mm film stock. The doc will feature newly remixed and remastered audio.
"The film will give audiences around the world the chance to witness performances that marked the rise of the future Rock and Roll Hall of Famers," reads a statement from the doc's distributor, Sony Music Entertainment. "Very little filmed footage of Bruce Springsteen and The E Street Band is available from this era, so 'The Legendary 1979 No Nukes Concerts' is a rare opportunity to see the band give an explosive performance that became an instant classic."
Release details have yet to be announced by Sony.