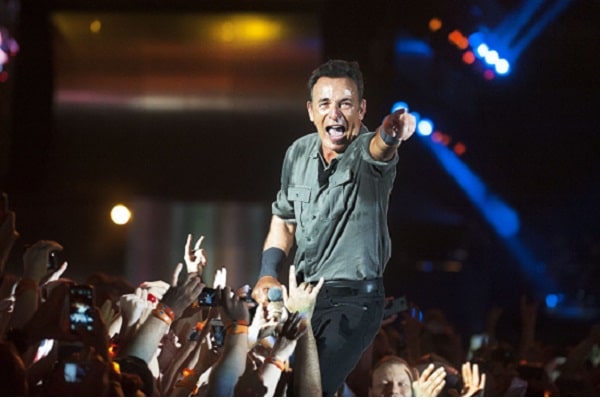 Bruce Springsteen is to release a cover of the Commodores track 'Nightshift' from his latest covers album 'Only The Strong Survive'.
The track was originally written by Commondores band member Walter Orange, alongside Franne Golde and Dennis Lambert. The track also reached the top 10, following its release in 1985.
It was a released as a tribute to music legends Marvin Gaye and Jackie Wilson, who died the previous year.
You can also check out the original music video below.
Here are the relevant lyrics.
Marvin, he was a friend of mine
And he could sing his song
His heart in every line
Marvin sang of the joy and pain
He opened up our minds
And I still can hear him say
'Oh, talk to me, so you can see, what's goin' on'
Say you will sing your songs for evermore, evermore
…
Jackie, hmm, hey what you doing now
It seems like yesterday when we were working out
Jackie, oh, you set the world on fire
You came and gifted us
Your love, it lifted us higher and higher
Keep it up and we'll be there at your side
Oh, say you will, sing your songs
For evermore, evermore, evermore
"sweet sounds comin down"
While he has not officially confirmed the release of his 'Nightshift' cover, Bruce Springsteen did share this via social media. It will arrive at midnight on October 14.
"Gonna be some sweet sounds comin' down, on the nightshift… Friday at midnight", he wrote.
Gonna be some sweet sounds comin' down, on the nightshift… Friday at midnight. pic.twitter.com/Dwb5nr0kok

— Bruce Springsteen (@springsteen) October 12, 2022
Springsteen's special covers album 'Only The Strong Survive' arrives on November 11.
'Nightshift' is the second track to be officially released by Springsteen, having previously shared a music video for his cover of Frank Wilson's 1965 single "Do I Love You (Indeed I Do)". It is available to pre order here.
The album is to also include covers from artists such as The Four Tops, Jerry Butler, Jimmy Ruffin, The Superemes, The Temptations, among others. More on this from Nova here.
Earlier this month, Bruce Springsteen also joined the Killers on stage during a concert at Madison Square Garden. See that here.