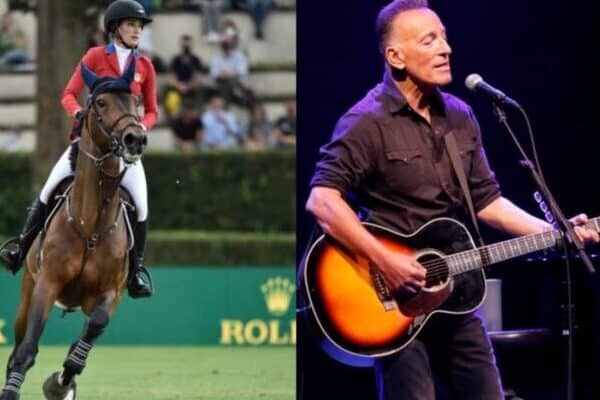 Jessica Springsteen – who is the daughter of Bruce Springsteen and Patti Scialfa – is returning from the Tokyo Olympics with a silver medal.
29-year-old Jessica was competing as part of the US showjumping team, of which she is the youngest member.
Earlier in the tournament Jessica failed to qualify for the individual equestrian jumping finals. To do so required her to record a top 30 finish in the individual class. Jessica struck trouble when her horse knocked down a rail on the 11th obstacle of the 14 obstacle course, and was subsequently eliminated.
Jessica was given a second shot at glory in the team equestrian jumping finals. Competing alongside teammates Laura Kraut and McLain Ward, Jessica claimed silver after finishing closely behind gold medal winners Sweden. The bronze medal went to Belgium.
After the event, Jessica called her famous parents.
"I Facetimed them really quickly. They were screaming; I couldn't understand anything that they were saying," she said. "It was all smiles. I saw the Team USA gear they were wearing. I couldn't work out what they were shouting, but I just know they are so excited."
Last week Jessica spoke of her excitement at reaching the finals.
"I am so excited to represent my country at this level," she said. "It is something I have always dreamt of, and I am just really looking forward to the experience. Just to be selected on this team that I have looked up to throughout my career has been a huge honour for me."
It was Jessica's first time competing at the Olympics. She had previously been chosen as an alternate for the London Olympics of 2021 but ultimately never participated.
The American rider said the postponement of the Tokyo Olympics by a year allowed her time to establish a relationship with her 12-year-old horse, Don Juan van de Donkhoeve.
Jessica began riding horses at just four-year-old on her family's 300-acre farm in Colts Neck, New Jersey. While still in her teens she won the 2008 ASPCA Maclay National Championship. In 2014 she won the American Gold Cup. Despite winning her first five-star Grand Prix jumping competition in 2016, she failed to make the US team for the 2016 Olympics.
Jessica previously competed with the Miami Celtics showjumping team alongside four Irish teammates.
"I suppose the Americans have a great system when they start out their riders very young," her Irish teammate Shane Breen said. "Jessica has that American flair, but she has adopted a lot of the European ways as well. She's an all-around top-class rider — good eye, good feel and a great understanding of the horse."