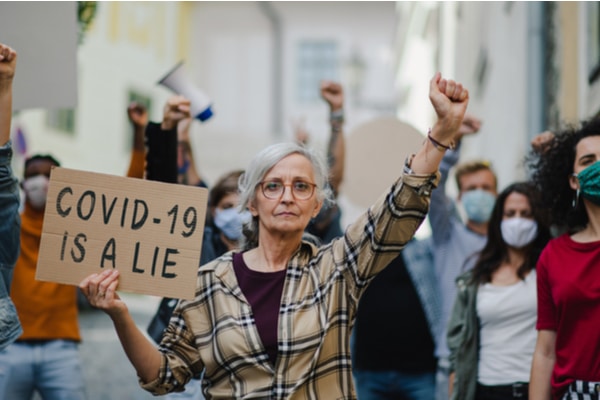 According to reports, University College Dublin's Student Union has called on the college authorities to investigate Professor Dolores Cahill. They wish to find if her activities amount to gross misconduct, after an anti-lockdown protest in Dublin on St Patrick's Day. Cahill shared a 25-minute video on her Facebook page, where she rallied anti-maskers and sang an awful rendition of Aslan's Crazy World.
Professor Cahill, a member of faculty at the UCD School of Medicine, organised and spoke at the event as Chair of the Irish Freedom Party. The event took place on Wednesday, March 17th, in Herbert Park, Dublin 4.
According to the report, UCDSU has now called upon the college to investigate Cahill under the UCD Disciplinary Statute and Procedure. UCDSU President, Conor Anderson said in a statement that Cahill's continued escalation of rhetoric could potentially endanger public health.
"I have written to the head of the UCD School of Medicine, and the head of UCD Human Resources, to request that Prof Cahill be investigated under Statute 28 of the Universities Act 1997," Anderson's statement said. "This statute defines gross misconduct, in part, as 'deliberate disregard for health and safety precautions likely to endanger another person'." 
Cahill Organised and Spoke At Le Chéile Day Protest
It is said that around 500 people turned up for the event billed as a "family and mental health day". The large crowd was addressed by Professor Cahill as she said, "Our beautiful, treasured elderly in the care homes: they are not prisoners". She told the people in attendance to "invite [elderly people] for Sunday dinner" and then write to the "Minister for Health, and Prime Minister of Ireland and say, 'I want my granny to join me next Sunday'".
Cahill accused Gardaí of "criminal and unlawful behaviour" because they choose to enforce restrictions, instead of guarding the public's best interests. The Professor from the School of Medicine then claimed that "if everybody just stopped wearing masks, this would be over". She also incorrectly claimed "asymptomatic people do not exist" and if children wear masks, they "will never reach their IQ potential, because their brains are starved of oxygen". Cahill believes this is the masterplan of globalist powers as "oxygen-deprived people are easy to manipulate".
A number of Cahill's claims have been debunked in the past, and social media companies continue to remove videos featuring her opinions on the pandemic. US science website, Health Feedback debunked Cahill's claims that people will have "hardly any symptoms" if they contract COVID-19, once they have been eating healthily and taking vitamins C and D, along with zinc, and even claimed there is no need for a vaccine.
Professor Cahill's public activities have been met with discontent from UCD students over the last year or so. UCD student newspaper The College Tribune reported in June, last year, that "a group of students collaboratively wrote a letter detailing Cahill's claims and providing scientific evidence which contradicts them. This letter was signed by 133 students from the UCD School of Medicine".
UCD Distances Itself Away From Cahill
UCD, which employs Ms Cahill, distanced itself from her comments and released a statement saying the university does not discuss individual staff members. It also said Cahill is not scheduled to teach students or co-ordinate modules this semester.
"The views expressed by Dolores Cahill are her own. They do not reflect the position of the University," said a spokesperson. "Dolores Cahill is not scheduled to teach or coordinate modules this semester. The University does not discuss individual staff members."
It declared that the university "continues to fully support the public health position taken by the Irish Government concerning Covid-19. This includes vaccination rollout, treatment for Covid-19 patients and societal restrictions aimed at curbing the spread of the virus".
The anti-lockdown protests were announced after a demonstration took place on Dublin's Grafton Street, last month. Gardaí had to use batons as they pushed protesters down Grafton Street, while fireworks were returned upon them. One Garda was taken to hospital after being injured in the clashes, while 23 people were arrested.