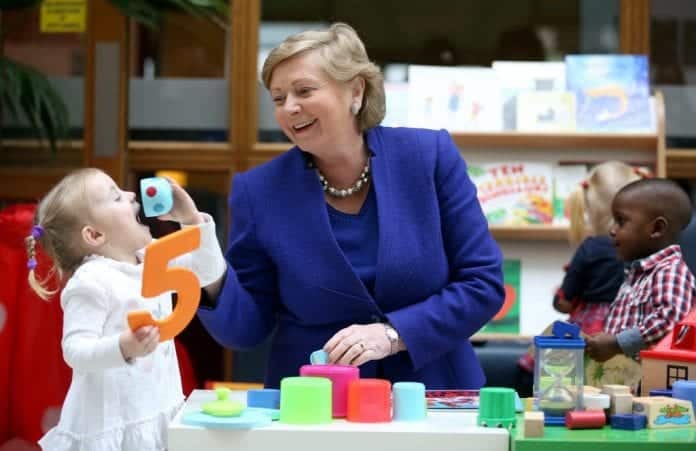 The Tánaiste has tried to explain why she forgot an email which criticised a key Garda whistleblower.
During a special Dáil debate last night, Tánaiste Frances Fitzgerald, said she assumed the issue would be dealt with by a Government Tribunal.
The former Minister for Justice is coming under fire for a discrepancy in her dates; she says she found out about Garda plans to discredit whistleblower Maurice McCabe in 2016, but the email suggests she could have known for a full year beforehand.
There are calls for her to resign from her position – but the Tánaiste is adamant she did nothing wrong.
Sinn Fein appears poised to table a motion of no confidence in Fitzgerald, who maintains she doesn't remember the email sent in May 2015.
Great to meet my @FineGael colleague & Leas Chathaoirleach @GalwayCityCo Joe Byrne ahead of the big match tomorrow #AIGFenwayHurling pic.twitter.com/KV8ASOoxGC

— Frances Fitzgerald MEP (@FitzgeraldFrncs) November 18, 2017
After pressure from the opposition, the Tánaiste gave a statement to the Dáil, publishing an email she received in May 2015 regarding Maurice McCabe.
But the Minister told the Dáil she didn't remember the email, which directed that she had no function in following up the matter which was before the O'Higgins Inquiry.
Sinn Féin are currently considering whether to table a motion of no confidence in the Tánaiste, which would give time to debate the issues, but it would appear that Minister Fitzgerald has bought herself some time.
Furthermore, Solidarity TD Paul Murphy says a confidence debate may provide further clarity:
"That would give space for the kind of debate which would possibly see some answers. I think leaders questions today will be very important – I think Leo Varadkar was notable for his absence last night."
Another series of questions is provoked by comments from Maurice McCabe, who says the allegation of a serious criminal complaint, mentioned in the email, was not put before the O'Higgins Inquiry which the email was about.
Feature Image: Department of Children