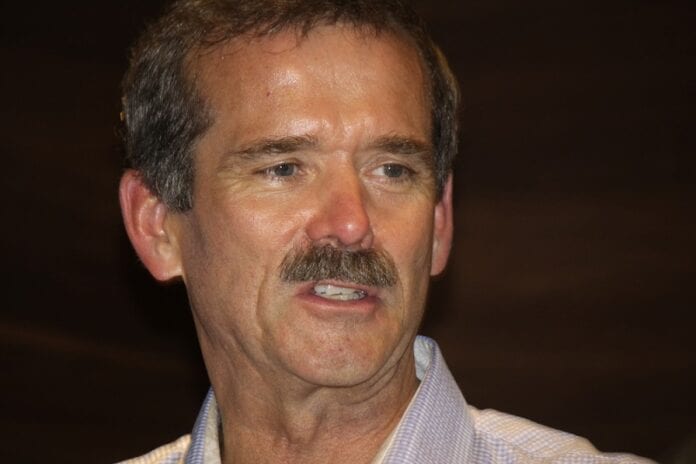 Retired Canadian astronaut Chris Hadfield has written his first thriller novel entitled 'The Apollo Murders'.
Hadfield had written a memoir, a children's book and published a photo book but has now written his first thriller novel.
He has also released an album called 'Space Sessions: Songs from a Tin Can'.
Chris Hadfield became a household name when he performed David Bowie's 'Space Oddity' while in space. You can check out his performance below.
Speaking to RTÉ about his new book, he said "It's something I've wanted to do for a long time. But during the pandemic, actually because I travelled less, I had time to concentrate on it."
"It's set in 1973, with the Cold War and the Soviets' space programme and the end of the American space programme, where they were going to the Moon."
'The Apollo Murders', published by Random House Canada, will be released on October 12 and is available to pre-order here.
The book will see three astronauts trapped in a tiny module on the far side of the moon.
Tensions between the United States and the Soviets are at an all-time high as the race is on to find a secret treasure on the moon.
The flight controller, back in Houston, is doing his best to keep everyone on the same team. However, that's a difficult job as one astronaut isn't who he seems to be and is plotting murder.
In his interview with RTÉ, Hadfield went on to add "I think people are going to enjoy it. But also, I'm one of the very few authors who can write action fiction who has actually done space walks and commanded a spaceship and spent time in weightlessness and flown Russian and American rocket ships."
"So, it gave me a grounding of understanding that then I could put into the story that I think really adds to it."
He added "over half of the characters in it are real people, because it's set in 1973. So, that was a real fun part of the depth of research, and then building this really convoluted story in the era of Apollo."
Chris Hadfield had a stellar career as he was the first Canadian to walk in space. He has also flown on two space shuttle mission and was commander of the international space station.