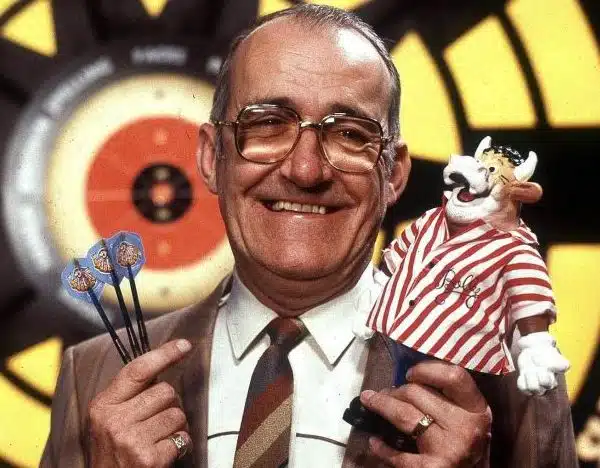 Jim Bowen, best known for hosting the darts-based game show Bullseye, has died at the age of 80.
The Lanchashire born star was a popular comic on the working men's club circuit in northern England and became a household name when he began to present Bullseye on ITV in 1981.
Born Peter Williams in August 1937, Bowen became a teacher at schools in Lancashire and subsequently deputy headmaster of Caton primary near Lancaster.
The advent of Granada TV's The Comedians afforded the affable Bown the chance to appear on national television. From there it was to lead him to the host's duties on Bullsete combining darts and questions.
His catchphrases on the programme became well known, including his warning to contestants that if they gambled and lost then all they would receive was their 'BFH', (their bus fare.)
'Nothing for two in a bed' referred to how contestants would win a prize by hitting the appropriate part of the dartboard but would lose the prize if they hit it twice. His most popular catchphrase was super, smashing, great.'
John Plews, who produced Bowen's live shows for many years, told the Guardian … 'He was just such a lovely bloke. He was in person exactly as he was on stage or on television and just loved spending time having a laugh with fans or anyone else."