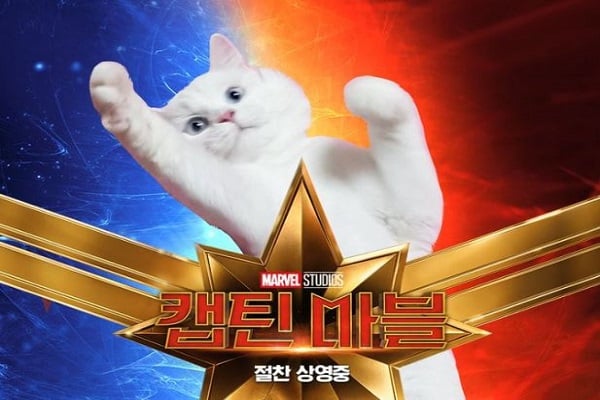 The breakout 'Captain Marvel' star, Goose has started an internet trend! Friends of the furry feline's are showing us just how incredible the internet can be.
According to Mashable, the trending hashtag for Captain Marvel's cuddly cat named Goose has quickly turned into Catmania.
Following the release of Disney's latest superhero blockbuster, the hashtag for Goose has quickly turned into quite the parade of live cats posing just like George and spreading the trend worldwide. Check them out below!
YA-ONG#캡틴마블_우리집구스 pic.twitter.com/QbxS8tuGHH
— 레몬 (@dayrhyme) March 9, 2019
#캡틴마블_우리집구스
먀옹!! pic.twitter.com/6o86hVdRZZ

— 먀옹 (@wtIdreamedtoday) March 9, 2019
우리 보리 최고야 귀여워 완벽해! pic.twitter.com/YffWQSlwvW

— 서율 (@marron_dInde) March 9, 2019
반려묘로 캡마 포스터 합성하는 이벤트 하길래 우리 집 해상도 낮은 반려묘들로 합성해 봄… #캡틴마블_우리집구스 pic.twitter.com/qwIwM3OGVQ

— 눅쓰 (@Nuxtyle) March 9, 2019
나니야
다부숴#캡틴마블_우리집구스 pic.twitter.com/zxKTVYZNJe

— 나니 (@Super_Mangnani) March 9, 2019
This is gold omg I hope Daniel know this.
I'm camping on this hastag until future notice.#캡틴마블_우리집구스 pic.twitter.com/TNNq955aaO

— . #ForeverWithDaniel (@sweveniel) March 9, 2019
#캡틴마블_우리집구스 GOOSE N GOOSE pic.twitter.com/yUn0RzKIpj

— 1101 (@NNOJ8) March 9, 2019