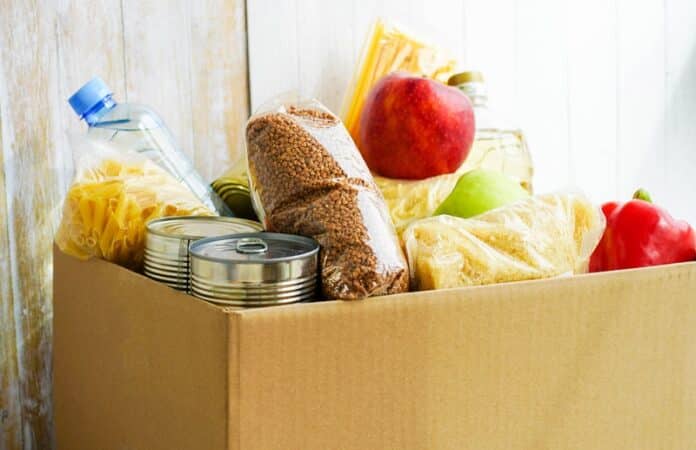 The Capuchin Centre in Dublin saw long queues from very early this morning as dozens of people waited in line for food vouchers.
Ever since 1970, the charity has handed out Christmas food hampers every year, but this year due to Covid restrictions, they handed out food vouchers.
The vouchers were worth €40 and are available to use in SuperValu. Normally, volunteers would spend the night before packing bags and hampers filled with food for people in need. With social distancing measures being followed, the charity instead provided approximately 3,000 food vouchers instead.
Capuchin Centre manager Alan Bailey said that it costs around 4 million euros a year to run the centre.
Various State agencies gave €400,000 with the rest from donations and fundraising. However, this year costs are expected to be higher due to the pandemic.
Pre-pandemic, the centre provided 500 dinners a day. Recently, the average has been closer to 800. It was also revealed that on one single day, they provided 972 dinners in recent times.
Under current rules, all dinners from the Capuchin Centre have to be taken away. Most bring them to the church next door which is big enough to accommodate social distancing.
If you would like to make a donation, you can do so by clicking here.
The Capuchin Centre thanked Dermot Kennedy for his appeal he made on The Late Late Show.
"This year has been a year like no other. We are especially grateful for the overwhelming response in this time if need to the Dermot Kennedy Late Late Show appeal on our behalf. We do not hire professional fundraisers and we are most grateful to our faithful benefactors who undertake fundraising events on our behalf, many of which have been unavoidably disrupted this year."
The Dublin singer hasn't been the only musician to raise money for the centre. Last year ahead of their concert at Slane Castle, Metallica donated a substantial sum of money to help the centre.