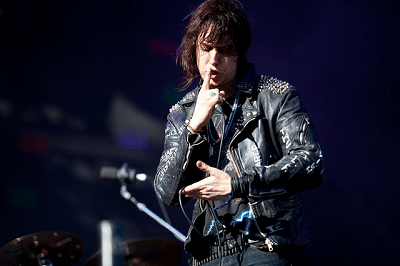 The Strokes' frontman, Julian Casablancas, has been performing and recording material with a new band called The Voidz.
Their new album is named Tyranny and is being put out through the singer's own record label, Cult Records.
Tyranny is due out in late September. His last album Phrazes for the Young, was released five years ago.
The band is made up of Casablancas (lead vocals), Jeramy "Beardo" Gritter (guitar), Amir Yaghmai (guitar), Jacob Bercovici (bass guitar, synthesizers), Alex Carapetis (drums) and Jeff Kite (keyboard).
The new band premiered songs at the world's largest music showcase SXSW, earlier this year.
Here's the YouTube album preview from Julian Casablancas and The Voidz.
In a press release Casablancas said:
"Tyranny has come in many forms throughout history. Now, the good of business is to put above anything else, as corporations have become the new ruling body. Most decisions seem to be made like ones of a medieval king: whatever makes profit while ignoring and repressing the truth about whatever suffering it may cause (like pop music, for that matter)."
Last year, Casablancas contributed guest vocals to Daft Punk's Random Access Memories on the track 'Instant Crush'. He has also been playing sporadic shows with The Strokes this summer.
The Voidz also put out a video in anticipation for their Autumn tour, if you are from the VHS generation you'll appreciate the video quality. Check it out below.