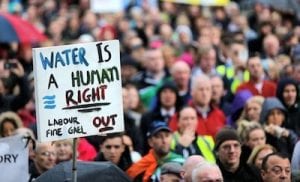 The Director of Public Prosecutions has moved to drop all charges against those arrested following a now high profile water charge demonstration held in Jobstown in west Dublin in November 2014.
Solidarity TD Paul Murphy and five other people accused of falsely imprisoning the then Tánaiste Joan Burton and her adviser Karen O'Connell were acquitted already earlier this year after the much publicised protest.
The former Labour party leader was attending a graduation ceremony when protesters heard that she was addressing graduates.
The prosecution claimed that the two women were effectively trapped in a car after leaving the ceremony. The defence pointed to inconsistencies between some Garda testimony and video footage presented to court.
Six other defendants were due to stand trial today and another trial was due to take place next year. However Sean Gillane, SC for the Director of Public Prosecutions, informed Judge Melanie Greally that the State was dropping the charges against all but one of the remaining accused.
20 year old Dylan Collins of Bawnlea Green in Tallaght will be arraigned next month on one count of causing criminal damage to a Garda vehicle.
A large crowd gathered at the back of courtroom 19 at the Criminal Courts of Justice cheered and burst into applause as Judge Greally made her way back to her chambers.
One of those who's charges were dropped today Peter Herbert of Rossfield Park, Jobstown reiterated their call for an independent and public inquiry into the entire prosecution.
"The only way that we will get answers to these vital questions for civil liberties in this country is to have an independent and public inquiry. We are very disappointed that the government has so far ruled out establishing one. Given this latest development we urge them to do so now."
Last year, a 17 year old was found guilty by a judge in the Children's Court of two counts of false imprisonment against Deputy Burton and Ms. O'Connell. He has already indicated his intention to appeal that decision, and there were further calls today for the conviction to be overturned.