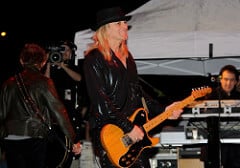 American rock band Cheap Trick have announced on Twitter today that they are currently in the studio recording what will be their 18th album. The band, who were inducted to the Hall of Fame in April 2016, tweeted that they "hope to have [it] completed by spring and released at the beginning of summer 2017".
They released their last album titled Bang, Zoom, Crazy… Hello less than a year ago, in April 2016. This quick turnaround is in contrast to the seven year gap between The Latest and 2016's Bang, Zoom, Crazy … Hello.
Cheap Trick began work on new music almost immediately following Bang, Zoom, Crazy … Hello. "The thing is, we're going to keep going," bassist Tom Petersson told Macomb Daily in 2015. "We want to record a record every year and just keep them coming out".
Petersson added "We're a working band. We work all the time — not non-stop, certainly, but we're back and forth a lot and we do all sorts of different shows".
In a career that spans over 40 years, they have more than 5,000 performances under their belt, 20 million records sold, 29 movie soundtracks and 40 gold and platinum recording awards. In October 2007, their home state Illinois passed a resolution designating April 1 as Cheap Trick Day in the state.
They are currently touring the U.S.A.
Picture Credit: antsnax