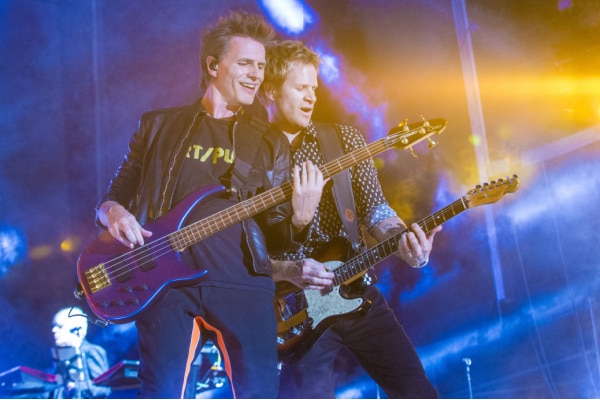 Would you like to listen to the article instead of reading it?
Duran Duran have released their version of David Bowie's track "Five Years", to honour the music icon. David Bowie passed away in 2016 and this month would have marked the singer's 74th birthday..
This comes as the band appeared alongside several high profile figures in a livestream A Bowie Celebration: Just for One Day. It was organised by Bowie's long time pianist, Mike Garson. Stars included Boy George, Ricky Gervais and Slipknot's Corey Taylor among others.
"All about David Bowie"
Regarding the band's cover, Duran Duran's Simon Le Bon said that David Bowie was the "reason I started writing songs". Le Bon said, "My life as a teenager was all about David Bowie. Adding, "Part of me still can't believe in his death five years ago, but maybe that's because there's a part of me where he's still alive and always will be".
Le Bon continued, "When we got the 'Ziggy Stardust' LP and put the needle in the groove, our first taste of its perfection was the song 'Five Years'".
Simon Le Bon described being asked to help commemorate the music of David Bowie as an honour.
He said, "I can't begin to explain how honoured I feel for Duran Duran to be given the opportunity to perform this icon, and to place our name alongside Bowie's for this commemoration of his music".
Duran Duran plans for 2021
Meanwhile, Duran Duran have announced they will play at London's Hyde Park this July. Before that, they plan to start their tour in St Anne's Park on June 13.
Depending on the Covid-19 situation, the band are set to play at this Summer's festival. The event was cancelled last April due to the pandemic. Last April, the band's bassist John Taylor tested positive for Covid-19.
The new date is set for 11 July 2021. If it goes ahead as planned, it will be the band's first gig in the English capital since 2014. Nile Rodgers, Chic and Grace Jones are also set to perform at the event.
On this annoucement last November, Le Bon said, "We are so happy to announce the new date for our return to Hyde Park,".