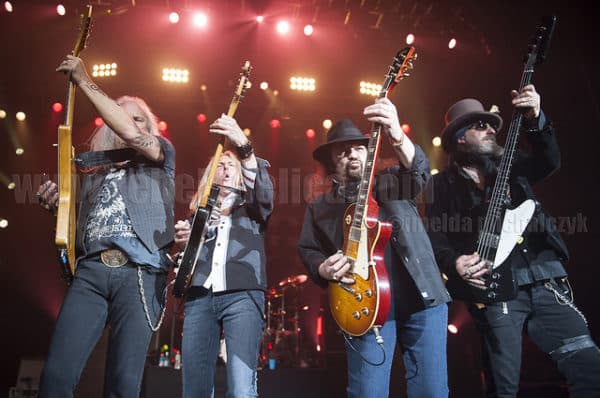 Literally music to fans ears! Live music is slowly but surely coming back! New Zealand were one of the first countries to bring live crowds back, with Six60 playing in front of large crowds. However, recently Lynyrd Skynyrd played live in front of a crowd at the Pepsi Gulf Coast Jam in Panama City Beach.
As heard with Pat Courtenay on Radio Nova!
You can check it out below.
This is the band's first show for 18 months. Gary Rosington and co finished the show with "Freebird", of course!
Lynyrd Skynyrd "Big Wheels Keep On Turnin" Tour
This comes as the Lynyrd Skynyrd also announced dates for their 2021 "Big Wheels Keep On Turnin" Tour.
This tour will begin on June 13 in Forest City, Iowa, before finishing in November 19 in Bossier City, LA.
Most of the shows will be opened by Tesla. Other acts include, Joan Jett, The Heartbreakers, The Marshall Tucker Band, Allman Bettes Band, and Kansas.
Tickets for thirteen of these 30 shows will be available to purchase on June 11 at 10am local time.
Fans purchasing the tickets on June 11 can do so on the website, using the code SKYNYRDBIGWHEELS.
Check out the website to buy tickets and find out the tour dates here.
"Turned the world upside down"
Gary Rosington remarked that the pandemic "turned (their) world upside down".
"And since that time, we have been talking amongst the band, and realized that music has such a way of healing", he continued. "Maybe it's not our time to go. And maybe it's our time to lift people's spirits and lives and bring back some joy and happiness after so much turmoil this past year. We're still standing, still keeping the music going".
"There's a saying in the music business: You don't retire from it; it retires you", Rosington added. "I have heart problems. I thought I couldn't get around anymore a year or two ago. But I got it all fixed, so now I'm feeling all right".
Singer for Lynyrd Skynyrd, Johnny Van Zant also had a message for the fans. "We're gonna finish what the heck we started".
Adding, "No pandemic's gonna keep us away from that. And we're gonna play other shows, but we're not gonna do as many. I think we're still gonna calm down what we've done. We're not gonna go out and hit it like we have been for 30-some years — 80, 90 shows.
He also added that the band are "not gonna do that many shows. We're gonna be very selective".
Another reminder to tune into Pat's show from 3-7pm week days on Nova!!