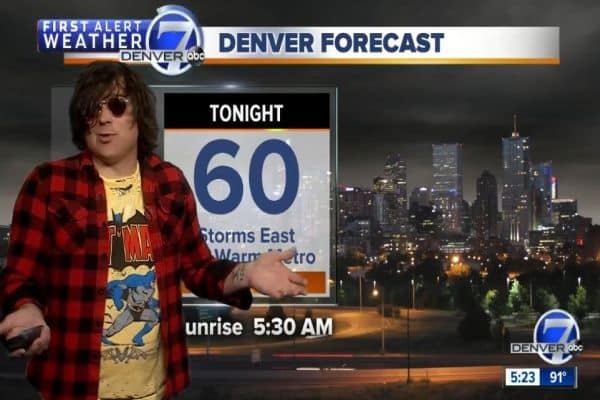 Ryan Adams headlined a show at Colorado's historic Red Rocks Amphitheatre last week on June 13th. Before the show he was asked to make a special appearance as the weatherman for the US TV station Denver 7. You can check out the hilarious video below.
Adams had shared a jingle he made for Denver's local ABC affiliate station, in a lighthearted bid to promote the concert. The jingle is called "Denver 7 (Piece Of Heaven)." This jingle came hot on the back of '105.5 The Colorado Sound,' an ode to Colorado's adult alternative radio station that he released a few weeks ago.
Adams decided to take his promotional skills love coupled with his love for Colorado to another level by acting as a guest weatherman for Denver 7 News. Speaking to the newscasters Adams said he, 'was sitting at home with his three cats when he got the call to do the weather on Denver7.'
On the news show he wore a Batman shirt and sunglasses while presenting the forecast. "This is exactly as weird as I thought it would be," he said. View the hilarious clip below.