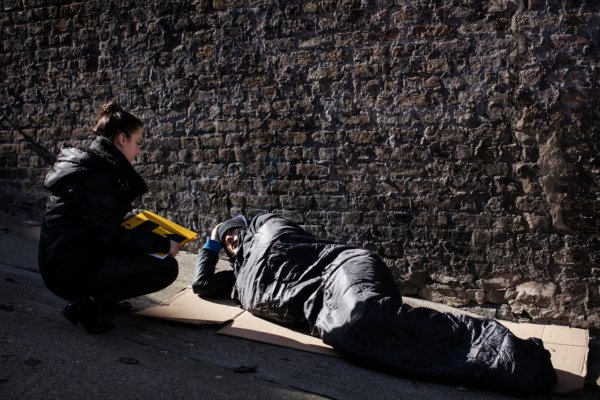 One of Ireland's leading homeless charities says record figures of over 9,000 new homeless show that the government is not doing all it can to ease a deepening crisis. 9,104 people became homeless in January revealing a rise of 6% in just a single month from 8,587 in December 2017 to 9,104 in January 2018.
Department of Environment figures reveal even more disturbingly that 3,267 of those are children. Charity Focus Ireland said the situation would be far worse if it did not assist over 700 families in escaping homelessness last year.
Focus Ireland's Director of Advocacy Mike Allen said: "We are deeply concerned by the government's continued emphasis on the delivery of Hubs to tackle this human crisis of family homelessness."
"Families need homes, and the Government is neither delivering new homes nor protecting families in the existing homes they have. With one-in-three of the families who are homeless now in emergency accommodations for over 12 months the Government needs to urgently rethink its approach."
"The Government has no strategy to tackle family homelessness; all it has is an outdated promise in Rebuilding Ireland and a stack of press statements."
He added "Such a strategy would require the Government to actively build social housing, ensure that bank restructuring does not come at the cost of mass homelessness, taxing those who hoard building land and protecting the rights of tenants facing eviction."
Focus Ireland also called for immediate action by the Government to protect tenants in the Buy-To-Let properties that are to be sold off as part of the 20,000 loans by the 75% State owned Permanent TSB to Vulture Funds.
Mr. Allen said: "It is wrong that the State is allowing PTSB to sell off these mortgages on the cheap to Vulture Funds for them to make an easy killing on. The Government owns 75% of PTSB on the citizen's behalf. The loan books which will be sold to vulture funds will include thousands of buy-to-let mortgages, leaving tenants totally unprotected from eviction by vulture funds as they attempt to make a quick return."
Don't forget …. Radio Nova's fourth annual 'Help Our Homeless' Radiothon will take place over two days from tomorrow, Wednesday February 28th before concluding on Thursday, March 1st. The charity event hopes to raise vital funds from donations from public and local businesses to assist in beating the homeless epidemic in Ireland.
Radio Nova and charity partner Focus Ireland are working in tandem at Nova HQ in the Dublin Docklands with Focus Ireland staff manning the phones during the 48 hour charity pledge drive. Donations are needed to assist Focus Ireland in it's vital work in helping the homeless and those who are at risk of homelessness.
Focus Ireland supported over 700 households to move out of homelessness as 2017 saw a 17% increase in family homelessness, a 23% increase in the number of children becoming homeless during this same period.
Housing Spokesperson @CowenBarry raising homeless crisis in the #Dail now. New figures show there are a record 9,104 people living in emergency accommodation, including 3,267 children

— Fianna Fáil (@fiannafailparty) February 27, 2018