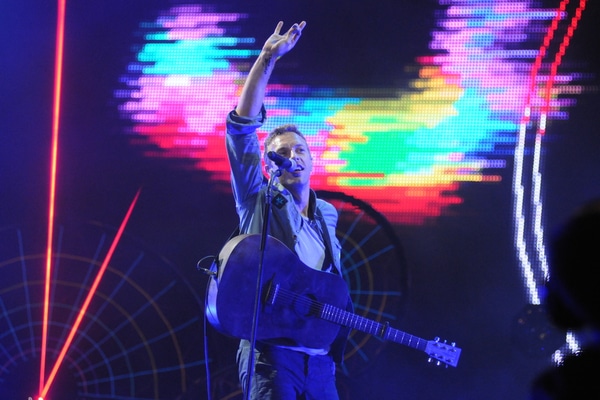 Chris Martin who rose to fame alongside his British rock band Coldplay, revealed in a new interview that he was inspired to start the group after watching the 1985 film 'Back to the Future'.
Martin recently appeared on Kelly Clarkson's daytime talkshow "The Kelly Clarkson Show", with footage containing the discussion about the film appearing on the show's YouTube channel on January 11. 
When the two singer's were discussing some of Martin's favorite songs to cover while on tour, the rocker recalled performing alongside 'Back to the Future''s Michael J. Fox in the past. 
"My number one probably is Michael J. Fox came and played two of the songs from 'Back to the Future' with us in MetLife Stadium. That was really wonderful," he said. "Him coming to play 'Johnny B. Goode' and stuff, that was wonderful."
Martin then told Clarkson that Fox's performance of the Chuck Berry classic was a driving force behind the singer's music career. 
"That's what made me want to be in a band, you know? That scene," he added.
Clarkson remarked that the film's scene was a "random way" to get inspiration to start one of the world's most successful rock bands.
"I grew up in real farmland of England, before the internet," Martin replied. "The first thing I ever recorded was, there was a show called 'The A-Team,' and I had a cassette recorder and held it against the TV to record the theme tune."
Coldplay recently topped the Rolling Stone songs chart last October for 'My Universe', a collaboration with K-pop boy group BTS. 
Despite their ongoing success, however, the band have announced that they plan to stop recording new music by 2025, though they still plan to tour beyond this date.