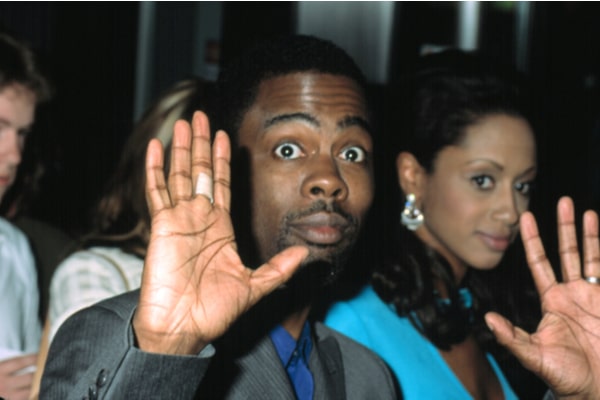 Comedian and actor, Chris Rock has claimed that cancel culture has led to "unfunny" and "boring" material being created. The term cancel culture is used when describing a mass shaming of people, who have done or said something that has been construed as offensive.
Chris made the comments via a video call interview earlier this week, where he described the bizarre absurdness that has swept across the world with the over-the-top public reaction. While speaking on The Breakfast Club, the comedian was asked how cancel culture had impacted the star and his comedy.
"It's weird when you're a comedian because when you're a comedian, when the audience doesn't laugh, we get the message. You don't really have to cancel us, 'cos we get the message — they're not laughing," Chris said of listening to the audience. "When we do something and people aren't laughing, we get it. And when everyone gets safe and nobody tries anything, things get boring."
Chris continues to explain that comedians "feelings hurt" when the audience are not laughing and, when "people aren't laughing, we, like, we get it". The actor cannot understand "why people feel the need to go beyond that. You know what I mean?"
"It's, honestly, to me it's a disrespect," declared Chris. "It's people disrespecting the audience. Like, 'oh, you think you know more than the audience? The audience knows more than everybody, OK. You know but hey, some things don't need to be said."
The Everybody Hates Chris star said the fear of being cancelled for risky material has resulted in fewer comedians taking the chance to make a laugh. Funny man Rock feels there has also been a rise in "unfunny comedians" and "unfunny" content across film and TV.
"Hey, some things don't need to be said, some people need to be looked out for. I definitely understand that", expressed Chris. "But not letting comedians work is, you know — what happens is everybody gets safe and when everybody gets safe and nobody tries anything, things get boring. Everybody's scared to make a move. That's not a place to be. You know, we should have the right to fail because failure, failure is a part of art."
Resulting from the fear of cancellation, Chris said he now sees a lot of "unfunny tv shows, unfunny award shows", and "unfunny movies". The Grown Ups actor believes that "everybody's scared to, like, you know, make a move", in fear of their careers ending.
Chris makes the point that failing at comedy is actually a part of the cancellation, although cancel culture does not allow them that privilege. He believes that this is a shameful practice, which he believes is making America a place where people are afraid to talk.
"That's not a place to be, you know? We should have the right to fail because…because failure is a part of art. You know what I mean? It's the ultimate cancel. But now you've got a place where people are scared to talk. That's not…you know, especially in America you're scared to talk." Chris continued to say, "but, you know, it's what people want, you know, got to make adjustments and, you know, let's do it."
Chris Rock has not been the only person to stand up for things that are funny, and warn of the cancel culture. Earlier this week, woke Hollywood actor Alec Baldwin also called out these practices after his wife, Hilaria, was targeted by the cancel culture mob and accused of cultural appropriation. Ex-GMB presenter, Pierce Morgan has also vilified the cancel culture by saying it is time to "cancel the cancel culture before it kills our culture."