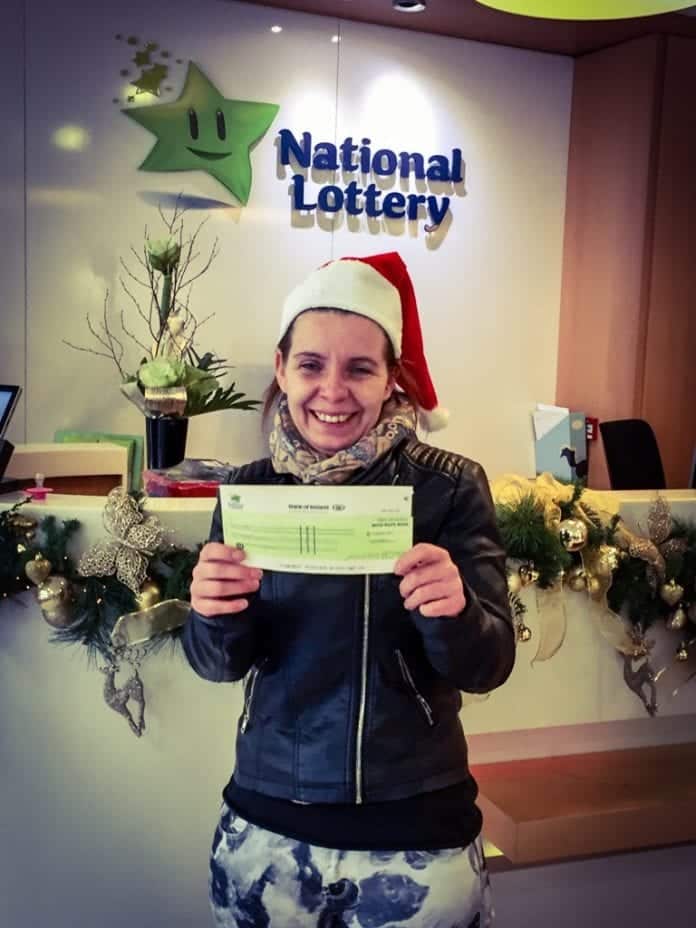 A Kildare mother-of-two had all her Christmases come together when she scratched her way to a €50,000 festive gift – on a scratch card bought in the shop she works in!
Karen Keiller, from Kilmead in Athy couldn't contain her delight when she called into National Lottery HQ today to collect her mega prize.
Karen works in Spar on The Village Green, Nurney, Co. Kildare and bought an All Cash Platinum scratch card when she finished her shift on Wednesday evening.
"I waited until I got home and had a cup of tea in my hand before I scratched the card at the kitchen table. I was in shock when I saw the amount I won. I went straight into my next door neighbours to ask them to check that I wasn't seeing things!" she said.
Karen has been so busy with work she hasn't had a chance yet to get a proper start on her Christmas shopping, and her big win will certainly help when she hits the shops this Saturday morning.
"But I won't go mad I will give myself a bit of time before I decide what to do with all the money. But I will pay off my bills and I might change my car in the New Year. And I will give a few bob to each of my two sons Ciaran (16) and Tadgh (19)."
Karen was so excited she didn't sleep a wink on Wednesday night. But she had a sleepless night also on Tuesday as the family dog gave birth to eight little puppies. "It was like having eight babies in the house. I am now exhausted." she said.
Karen plans a quiet celebration by having a Chinese takeaway with her family – and then a good night's sleep.
"This is the first big scratch card win for the shop owned by Gillian and Johnny Kinsella. I am delighted for them."
Karen was the fourth scratch winner to claim a big prize this week. On Wednesday a Romanian man living in the Midlands collected €100,000 on a Christmas Countdown scratch card. He purchased his winning scratch card in the Mace Store in Monard, Co. Tipperary.
Another winner who is going to have a Merry Christmas is a Co. Monaghan mother who picked up €20,000 on a Merry Money scratch card purchased from Eugene McCaughey's shop in the South Mall Shopping Centre in Monaghan town
And a Co. Louth woman won a cool €30,000 on an All Cash Tripler game on a card purchased at the Post Office in Louth Village, Dundalk.
Meanwhile the National Lottery is offering the perfect last minute Christmas gift for its players – a Christmas Millionaire Raffle ticket with a guaranteed top prize of a cool €1 million. Limited to 500,000 tickets there more than 5,000 prizes in the raffle which will take place on New Year's Eve.