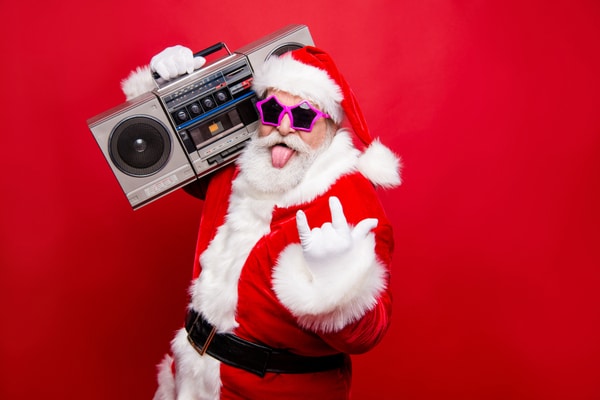 This week's Billboard Rock Streaming Chart has a very festive cheer to it as Paul McCartney, John Lennon, and Eagles are back in the Top 10. In this week's list, five out of the 10 tracks are Christmas songs which have been around since the '70s and '80s. Although there is no room for Andrea Corr and Ronnie Wood's duet of Elvis Presley's Blue Christmas, the track does thankfully make it into the list.
Making their grand, annual return for another season of festivity, these Christmas tracks slip in alongside some non-festive, classic rock tunes. Whether they're fraught with personal or political meaning or simple holiday ear candy, one thing is certain: These songs are adored by millions.
Although Christmas songs reach the chart for only six to eight weeks out of the year, they are an annual source of income for the artists, who are guaranteed a multimillion-dollar royalty check. The 1979 release of McCartney's Wonderful Christmastime charted in 19 countries, earning more than a reported $40 million in royalties. While the artist lands something between $400,000 and $600,000 a year, according to Celebritynetworth.com.
Part Christmas song, part Vietnam War protest anthem, Lennon's 1971 hit, Happy X-Mas (War Is Over), reached No. 4 in the UK and reflected the artist's peace campaign. The song has been covered by a range of artists, including John Legend, Miley Cyrus, Neil Diamond, REO Speedwagon, and Diana Ross.
Bruce Springsteen's Christmas hit, Santa Claus Is Comin' to Town, originally appeared in sets with the E Street Band in 1973. The song actually did not release until it appeared on the 1982 children's music compilation album, In Harmony 2.
First recorded in 1960 by blues singer, Charles Brown, Please Come Home for Christmas released in 1978 by American rockers, Eagles. Behind schedule on the recording their sixth album, The Long Run, the band recorded a Christmas song to have something to show label bosses.
You can see the Christmas songs on this week's Top Rock Streaming chart below.
Billboard's Top Rock Streaming Songs for the Week of Dec. 11, 2021
Chuck Berry – Run Rudolph Run
Paul McCartney – Wonderful Christmastime
Eagles – Please Come Home for Christmas
Elvis Presley – Blue Christmas
John Lennon and Yoko Ono – Happy XMas (War is Over)
Fleetwood Mac – Dreams
Journey – Don't Stop Believin'
Eagles – Hotel California
Nirvana – Smells Like Teen Spirit
Bruce Springsteen – Santa Claus is Comin' To Town
Trans Siberian Orchestra – Christmas Eve (Sarajevo 12/24)
Elvis Presley – Here Comes Santa Claus (Right Down Santa Claus Lane)