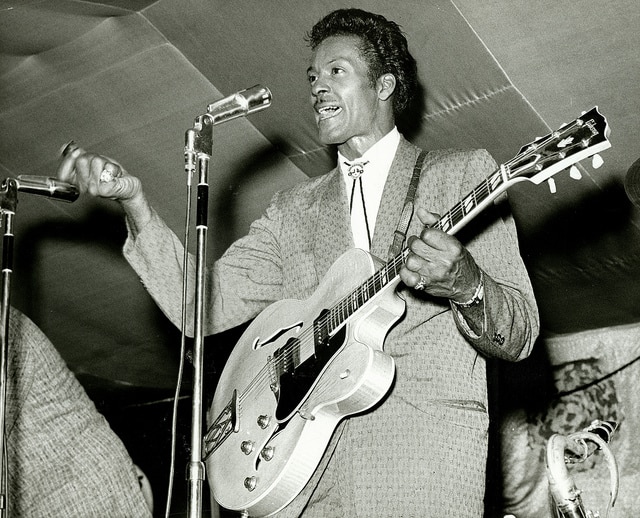 Chuck Berry, a man who is wildly considered to be the pioneer of Rock Music, has died aged 90.
Police in Missouri announced on their twitter and Facebook that Berry had been found unresponsive at his home on Saturday afternoon. They reported that they had tried and failed to revive the musician.
Tributes have come pouring in for the Guitarist with many giving him his rightful dues as the master mind behind the creation of Rock Music. The New York Times described him as "Mr. Berry was its [Rock N' Roll] master theorist and conceptual genius, the songwriter who understood what the kids wanted before they knew themselves."
Berry was Born on October 18, 1926 St Louis Missouri. He grew up in a time of racial segregation and racism.  His  father was a Baptist deacon and his mother was a school principal. While developing his talents, his teenage years were not without trouble.  At a young age  he took to armed robbery, robbing three stores in Kansas City before hijacking a car at gunpoint. For this he was sentenced to three years in a reformatory school in Jefferson City. Upon leaving the reform school, He received a degree in hairdressing and cosmetology. He worked multiple different jobs, as a cosmetologist, a factory worker and a janitor.
In the years between 1955 to 1958, Berry created some of the music he is best known for. His songs "School Day" or "Rock and Roll Music" and "Johnny B. Goode," all  reached the Top 10. His songs would become highly influential on the likes of John Lennon and Bob Dylan. The Beatles remade "Roll Over Beethoven" and "Rock and Roll Music." The Rolling Stones made multiple covers of his songs. These included their first single, "Come On,". The Beach Boys ripped off his "Sweet Little Sixteen" into "Surfin' U.S.A."  which spurred Berry into suing them and receiving song writing credit.
While his music was reaching new audiences, his legal troubles had not stopped. He was arrested in 1959 and charged with transporting a teenage across state lines for immoral purposes. He was found guilty but the verdict was overturned because of racist remarks by the judge.  He was tried again and found guilty once again.
In 1972, Mr. Berry had the biggest hit of his career with "My Ding-a-Ling," which was from the album "The London Chuck Berry Sessions". It sold millions and Mr. Berry's first and only No. 1 pop single. It was also his last hit.
He married Themetta Suggs in 1948 and started a family. They had four children: Ingrid Berry, Melody Eskridge, Aloha Isa Leigh Berry and Charles Berry Jr.
Photo Cred: Missouri History Museum