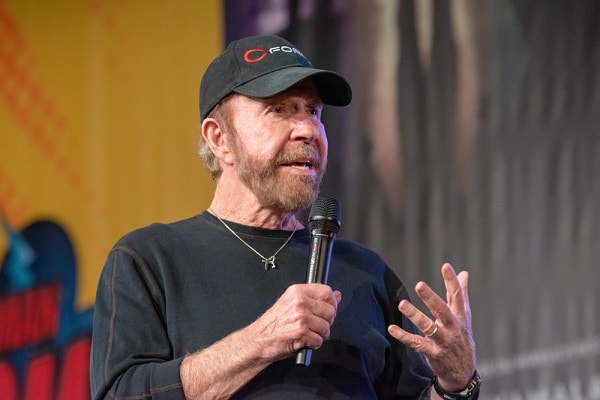 Hollywood star Chuck Norris has denied being involved in the Capitol riots which took place a week ago. The actor and martial arts expert says there is "no room for violence of any kind in our society" after images of a lookalike circulated online.
A photo at last week's riots surfaced on Monday, showing a Trump supporter posing with a man who looked like Chuck Norris. The image sparked a debate on Twitter as to whether or not the actor was in attendance.
"I recently learned there was a Chuck Norris lookalike at the DC Capitol riots. It wasn't me and I wasn't there. There is no room for violence of any kind in our society. I am and always will be for Law and Order."
This is the second time someone famous has had to deny their involvement with Jamiroquai frontman Jay Kay having to respond to some fans comparing him to a member of the violent mob which stormed the US Capitol, wearing horns and a fur.
Chuck Norris's manager, Erik Kritzer backed up the star on Tuesday, telling the Associated Press that he was not in attendance of last week's riots, in which five people died.
"Chuck remains on his range in Texas where he has been with his family," said Kritzer. Although he acknowledged that the man photographed looked somewhat like Norris, he explained; "Chuck is much more handsome."
The confusion arose earlier this week when a selfie of a man with Chuck Norris' face shape and close-cut beard began trending online. Norris, who backed Donald Trump in 2016, previously raised the alarm about plots to seize power, making claims in 2015 of the federal government aiming to take over Texas.
Chuck feared a military training exercise named Jade Helm 15 could turn into a full-scale occupation of his home state and urged Governor Greg Abbott and US Senator Ted Cruz to investigate. He is known for being a prolific Republican Party supporter and previously backed presidential bids from former Arkansas Governor Mike Huckabee in 2008 and 2016.
Chuck Norris played karate-kicking lawman Cordell Walker in Walker, Texas Ranger, which ran on CBS from 1993 to 2001. The most recent big-screen role came in 2012's The Expendables 2, where he starred alongside the likes of Sylvester Stallone, Jet Li, Dolph Lundgren, Arnold Schwarzenegger and Jean-Claude Van Damme.