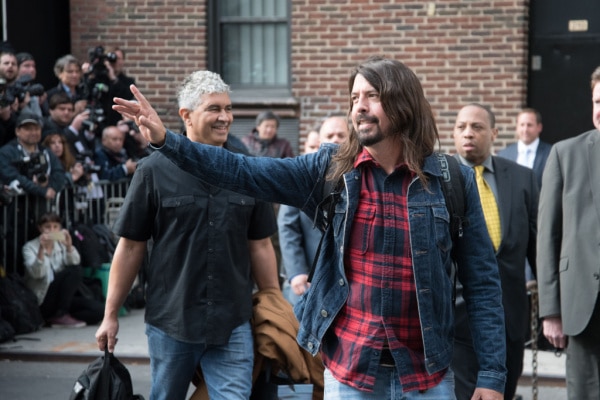 That iconic Dave Grohl drumming intro to Queen of the Stone Age track Song For The Dead has become a recent sensation on TikTok.
The track featured on the band's 2002 album Music For The Deaf, which also included Grohl, who also performed on their subsequent tour.
This infamous drum intro that Grohl produced has since been covered by a myriad of drummers both professional and amateur.
While some covers are better than others, one thing that is undeniable is how renowned and respected Dave Grohl is as a drummer. Grohl served as sticksman for the band Nirvana until the death of their frontman and friend Kurt Cobain in 1994.
Grohl has subsequently achieved huge success as frontman for Foo Fighters.
Working drummers who have covered this drumming intro from Grohl, include drums instructor Brandon Toews and Leah Blunstein. You can check these out and more below.
Other covers can be checked out here.
Grohl And The Covers
Earlier this year, Dave Grohl's Foos bandmate and drummer Taylor Hawkins sadly passed back in March. He was 50 years old.
Following this, two tribute concerts were set up in Hawkins' honour, one in London, the other in LA.
On the second of two shows which took place in LA's Kia Forum. Among other musicians, Dave Grohl's daughter Violet also performed at the event.
Taking to the stage, Violet Grohl delivered a moving cover of Leonard Cohen's classic 'Hallelujah'. Check that cover out, as well as Nova's report here.
The show also saw Def Leppard's Rick Savage, Phil Collen and Joe Elliot, Sebastian Bach, Brad Wilk, Kim Thayil and Matt Cameron of Soundgarden, Taylor Momsen, Jon Davidson, Pink, Danny Carey and Leanne Rimes perform.
Other stars also included Queen of the Stone Age's Josh Homme, Geezer Butler, Alanis Morrisette, Joan Jett, Chad Smith, Mark Ronson, Miley Cyrus, along with Hawkins' band Foo Fighters.