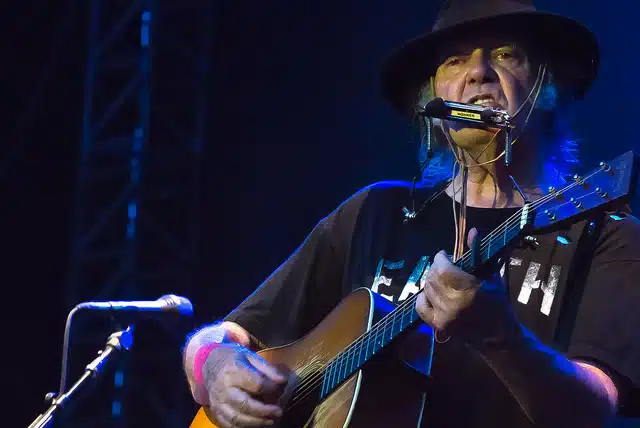 Neil Young has released a trailer for the new director's cut version of his 1982 film 'Human Highway'.
Young wrote, directed and starred in the movie, that is described as an apocalyptic comedy.
Human Highway stars many notable Hollywood stars including, Dennis Hopper (Easy Rider, Apocalypse Now), Russ Tamblyn (West Side Story, Django Unchained), Dean Stockwell (Blue Velvet, Paris Texas), Sally Kirkland (The Sting, The Haunted) and others.
The film also stars the American rock band Devo, who were pioneers of the music video when MTV first started.
At a recent Q&A Young explained the problems with getting funding: "It was ridiculous to explain it and we had no script that we could point to to say, 'This is worth hundreds and thousands of dollars,' so finally we just made it, just rented the place for a month or so."
The film includes several songs from Young's synth-electronic-influenced 1982 album Trans. The soundtrack includes, 'We R in Control, 'Sample and Hold,' 'Transformer Man,' 'Computer Cowboy' and Mr. Soul. There's also tracks from 1979's Rust Never Sleeps', 'Hey Hey My My (Into the Black),' played with Devo and a version of Bob Dylan's 'Blowin' in the Wind,' featuring the new lyrics "The answer is sticking out your rear."
"The soundtrack to the movie is just like the kind of music that they were listening to in the future or past or whenever it was — a lot of machines. Machines were singing to them," Young said.
Young explained the inspiration for writing the film: "There was a big picture of complacency, just how people saw everything but they just dealt with it as being reality and no one really questioned what was going on. So in these goofy people's lives in our little corner of Linear Valley – where they never left for the whole thing; nobody ever went anywhere; they never did anything — they just came and had lunch and left and fueled up, had a little roadwork done, natural things going on, day to day."
The Director's Cut is being screened at this year's Toronto International Film Festival.
Check out the Director's cut trailer below.