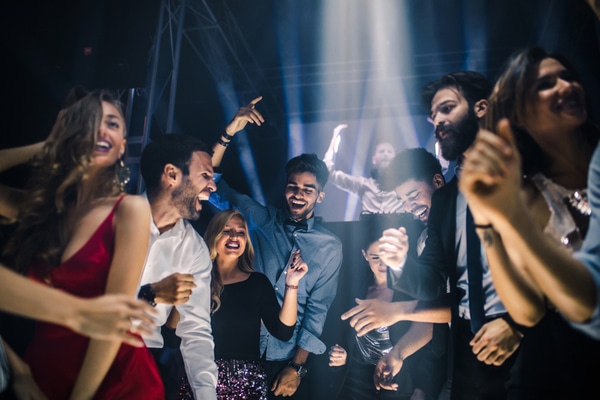 For the first time since March 2020, clubbers took to the the dancefloor of a nightclub for the Button Factory's Pilot nightlife event last night.
News of this event was first confirmed last month by Minister for Arts and Culture Catherine Martin.
"Night-time culture sees creativity burst into life in towns and cities. It is where we dance, sing, play music but also where audiences come together and sustain local economies and livelihoods. All that was put on pause during COVID-19″, Minister Martin said.
"This new report looks at ways to reignite the Night-Time Economy and culture, especially so given the devastating effects of the pandemic on live and arts events. But there is an opportunity to enrich our night-time life with new options. Positioning us alongside other countries where a myriad of offerings await patrons after dark", she also added.
As clubbing returns, I want to emphasise my commitment to support our electronic music and club culture

Ireland has exceptional electronic music producers & DJs and we can be international leaders in this field. These Actions will help us achieve this:https://t.co/whq7jfWP8u pic.twitter.com/1F2oCXZsdH

— Catherine Martin TD (@cathmartingreen) September 30, 2021
There is more from this report. Also check out the intiatives covered by the Night Time Economy Project here. 
The Event Itself
The sheer joy and excitement was there for all to see as crowds gathered outside the Temple Bar venue.
Only 450 people were allowed entry into the venue which is 60% of the Button Factory's capacity. Although the noise levels would make you feel that there was double that.
Having been shut down for for almost two years, people were just thrilled to see a return of nightlife in Ireland, which will hopefully lead to further events and more clubs reopening and a light at the end of this tunnel.
Check this out below.
Big up to @GiveUsTheNight @hidden_agenda_ @sunilsharpe @cathmartingreen @District8Dublin all the DJs, crew & bar staff for last night's pilot nightclub event, I had a blast playing & the crowd were brilliant, roll on 22nd Oct! pic.twitter.com/axvY0CO8OC

— Kelly-Anne Byrne (@KellyAnneByrne2) October 1, 2021
This is the closest Irish people have come to experiencing a night out clubbing since March 2020.
The organisers of this event also deserve a major patt on the back for the sheer dedication in putting this Covid friendly pilot event together.
After months and months of frustration, it appears that the industry has well and truly turned a corner. Fantastic to see!!
WATCH: Hundreds of clubbers have attended a pilot nightclub event at the Button Factory in Dublin. The event involved a 60% capacity crowd, vaccine certificates and antigen testing. @buttonfactory20 @KellyAnneByrne2 #TonightVMTV pic.twitter.com/cK3ec1cGsZ

— TonightVMTV (@TonightVMTV) September 30, 2021
Best of luck to all @ButtonFactory20 tonight!! Amazing to see yous opening up again!!! https://t.co/YT1cSd4fjQ

— Sue H (@Sue198) September 30, 2021