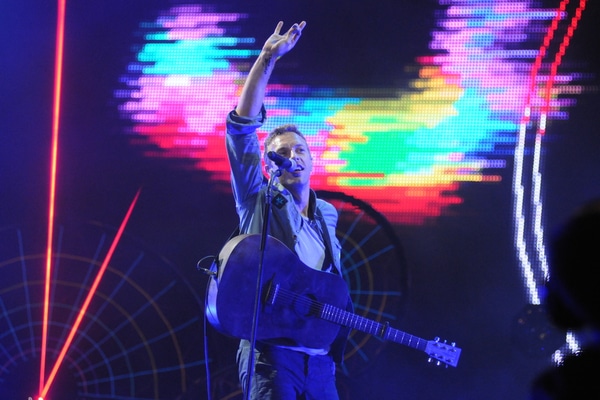 Coldplay have confirmed that their album "Music Of The Spheres" will arrive later this year.
Produced by Max Martin, the album is to arrive on October 15.
A trailer for the album accompanies this announcement. The trailer takes fans on this cosmic journey across the album's twelve tracks. The next preview of this album will arrive this Friday when the band release the track "Coloratura" which features on "Music Of The Spheres".
Check it out below.
"Thank you for listening"
In a note to fans, Coldplay wrote, "Thank you for listening, or coming to shows, or any way we have met through music".
The band posted this message to fans via their Instagram account, confirming the release date for their new album. Check it out here.
Here's the tracklist:
01 '[Ringed Planet Emoji]'
02 'Higher Power'
03 'Humankind'
04 '✨'
05 'Let Somebody Go'
06 '❤️'
07 'People of the Pride'
08 'Biutyful'
09 '🌎'
10 'My Universe'
11 '♾'
12 'Coloratura'
"Higher Power"
Coldplay's track "Higher Power" features on this new album. The band released a music video for it last month.
Directed by Dave Meyers, the video sees the band explore a colourful trash planet named Kaotica whose alien language features both across the Higher Power network and in the video.
The track itself was released on May 7.
"The video is a metaphor for how, right now, we all feel alienated, far removed from our world, almost like we're on an alien planet", Meyers said. "And ultimately we find love in the streets and that euphoria shoots us off into the stratosphere of our own energy and higher power".
More on this news from Nova's report here.
Back in May, the band performed the track live to open the 2021 Brit Awards. This performance took place over a constructed riverboat, overlooking the 02 Arena.
Led by frontman Chris Martin, this live cover also included fireworks and holograms.
Find out more about this and how the band also performed the track live on American Idol here.