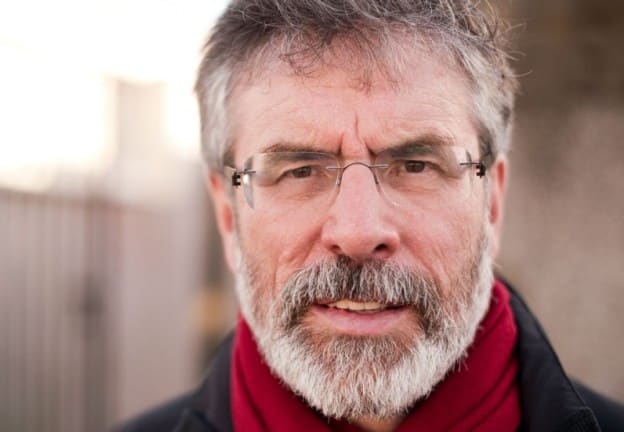 The former Sinn Féin President Gerry Adams has taken the latest bizarre step in his securing his legacy with a cookbook with recipes used during the long and often tortuous days of talks surrounding the peace process.
In fact, it touts the platter as "the best kept secret of the Irish peace process!"
'The Negotiators Cookbook' contains recipes which fed republican forces during talks which brokered the 1998 Good Friday Agreement in Northern Ireland.
It is "the perfect Christmas present" according to Adams – who has given the volume an alternative title of 'The Peas Process.'
In his promo video for his new release the 70-year-old said …..
"When you bring together a group of hungry republicans they have to be fed, So who fed them? We fed ourselves."
The thin book, retailing at €9.99 is packed with recipes for "soup, home baked bread, pasta dishes, salads, hams, pies, fish dishes or veggie meals, fine desserts and exotic moist fruit cakes," according to a blurb on the website of Sinn Fein.
Over the course of his political career Adams has shifted from acting as the political voice of the IRA, to being an instrumental agent in the peace process.
At the height of the conflict, when he defended the actions of paramilitaries, his voice was banned from British television – but Adams has always been coy about his associations with the armed republican movement.
Adams has continued to serve as a lawmaker in the Irish parliament after stepping down from the Sinn Fein leadership earlier this year. Outside of politics, he has garnered a huge following for his sometimes bizarre social media posts.