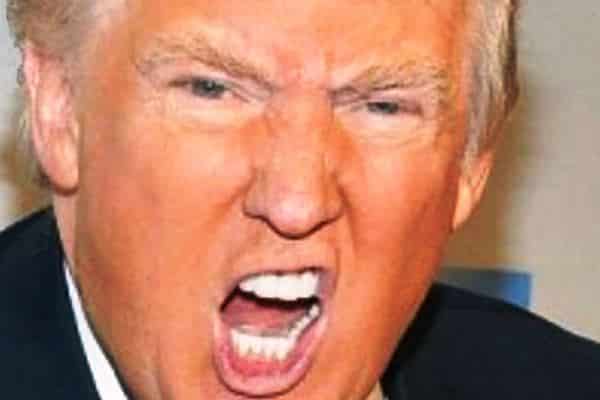 Trump just said "my father is German, was German. Born in a very wonderful place in Germany." Fred Trump was born in New York. pic.twitter.com/U6eWYPzjrJ

— Tommy moderna-vaX-Topher (@tommyxtopher) April 2, 2019
Donald Trump's troubling performance as US President continued in the White House Oval Office with his guest the NATO Secretary General Jens Stoltenberg today.
Trump either lied or became confused about where his father was born, admitted that closing the border with Mexico will be economically harmful to the US, despite threatening to do it anyway, while repeatedly struggling to say the word "origins."
Trump began by threatening to close the border with Mexico by this weekend, even though he had to urge Congress to "meet quickly and make a deal" before he has to do it.
"What we have to do is Congress has to meet quickly and make a deal. I could do it in 45 minutes," he said.
"We need to get rid of chain migration, we need to get rid of catch and release, and visa lottery, and we have to do something about asylum, and to be honest with you, we have to get rid of judges."
Trump's demand that Congress do his bidding ignores the inconvenience that Democrats control the House and have no interest pursuing his draconian immigration policies.
Asked if he has concerns that closing the border could be harmful to the US economy, Trump admitted that "sure, it will have a negative effect on the economy," but added, "we're going to have security in this country. That's more important than trade."
Trump's comments were a complete reversal from last Friday, when he mistakenly argued that closing the border "will be a profit-making operation" because of the US trade deficit with Mexico.
Trump's position also ignores the reality that immigrants — both documented and otherwise — commit crimes at lesser rates than native-born Americans.
When a reporter asked Trump about NATO, the president repreated previously made points about how Germany doesn't spend enough on defense.
Then in a ridiculous twist, Trump suggested he has warm feelings for the country because his father, Fred Trump, was born there!!!!
"My father is German, was German," Trump said. "Born in a very wonderful place in Germany." Trump was either lying or confused. Fred Trump was born in New York City!!
Trump also promoted his as-of-yet-unspecified health care plan: "We're going to have a phenomenal health care. We will be showing you at the appropriate time. It's much better than Obamacare," he said.
He then concluded by deflecting a question about whether he'll support the release of the Mueller report by accusing Obama-era intelligence officials of "treasonous" behavior.
But in the process, Trump repeatedly mangled the word "origins," on three separate instances saying "oranges" instead!!!
Eventually, Trump was able to say that "people did things that were very, very bad for our country, and very, very illegal. And you could even say treasonous."