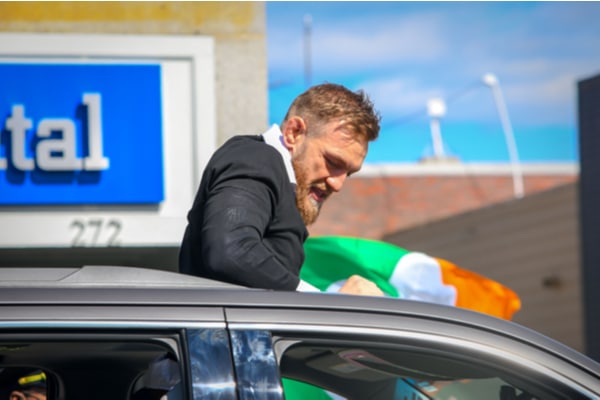 Conor McGregor was arrested for dangerous driving in Dublin on Tuesday evening.
Gardaí were informed that UFC star McGregor was driving his 170k Bentley in West Dublin. He was travelling to Palmerstown.
He had been pulled over by Gardaí and arrested for road traffic offences, before being taken to Lucan Garda Station. The UFC fighter was also charged and later bailed.
Having been charged with dangerous driving, McGregor will appear before Blanchardstown district court at a later date.
McGregor could face a fine up to €5,000 or 6 months in prison.
Gardaí Statement Over McGregor Arrest
Following McGregor's arrest, a Garda spokesperson released this statement.
"Gardai arrested a man aged in his 30s in relation an incident of dangerous driving in the Palmerstown area yesterday evening, Tuesday 22nd March 2022″, they said.
"The man was taken to Lucan Garda Station where he was later charged. He has been released pending an appearance before Blanchardstown District Court at a later date".
Earlier this month, Conor McGregor had teased that he could possibly make a bid to buy Chelsea, after their owner Roman Abramovich put the London club up for sale after being sanctioned for his close links to Russian president Vladimir Putin.
"Chelsea for sale, £3bn. Let's buy it!", McGregor had posted into an unanmed WhatsApp group. He later tweeted, "I wish to explore this".
Chelsea were not the only football club that McGregor had hinted over a possible takeover. The Notorious hinted at buying Manchester United, after CEO Ed Woodward resigned following the collapse of the European Super League.
He tweeted, "Hey guys, I'm thinking about buying Manchester United! What do you think?".
Last November also saw the Notorious take to Twitter to say that he remains unconvinced by Covid vaccines, in a tweet that has since been deleted. Find out more on this here.