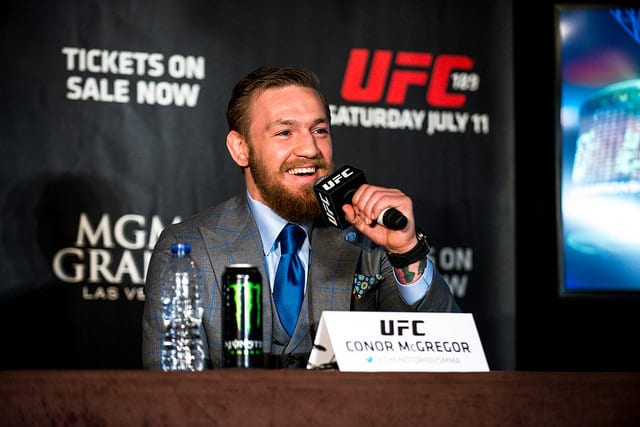 Somewhere in the world right now Conor McGregor is saying something outlandish and mildly offensive. So when a moment comes when he actually compliments someone he has previously insulted, you take notice.
One of McGregors trademark moves, bar beating men to a pulp, is his unmissable swag. It's fairly commonly known that the strut is heavily influenced by Vince McMahons infamous Billionaire strut in WWE. Vince McMahon is basically the granddad of the WWE and came to prominence during the attitude era in WWE. (A happier and simpler time)
Previously McGregor has been pretty downright unapologetic for the shameless stealing of McMahons move.
"I'm thinking Vince McMahon must be pissed," he said when asked about how he effectively stole the move. "I don't give a f**k about Vince McMahon. I stole that walk, and that walk is now mine. And not Vince or any of those other pussies over in the WWE will do anything about it! That's my walk! I created that walk. I made that walk!"
https://youtu.be/27Ey-vQMQXE
McGregor has seemingly started to change his tune about his feelings on McMahon. At a recent media day at the UFC he was asked about that walk again. This time he was less aggressive towards the OG Billionaire strut.
Conor McGregor talking about his billionaire strut: "I love Vince McMahon. He's a mad bastard" #UFC #WWE #MayMac

— Damon Martin (@DamonMartin) August 11, 2017
Maybe fatherhood has turned him into a softer man? Or maybe he's already looking past the fight with Mayweather and angling for some appearance fees with the WWE.
Photo cred: