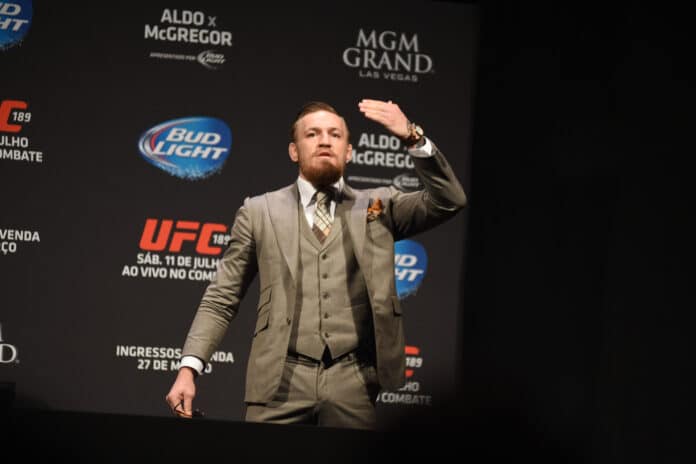 Bad news for those hoping that  UFC star Conor McGregor's tweet about buying Manchester United was to lead to the Notorious bidding to buy the club! It would appear that McGregor has agreed to buy the Marble Arch pub in Drimnagh. The place that he pleaded guilty to assaulting a customer in.
McGregor had pleaded guilty to assaulting 50 year old Des Keogh in the Marble Arch in 2019. He admitted to punching Mr Keogh in the face, after the victim had refused a shot of the the UFC star's own brand of Irish Whiskey. McGregor apologised to Keogh and was fined €1,000 by Dublin District Court.
Conor McGregor is to buy the Marble Arch pub for between €1.5 million and €2 million. It is the second pub that the Notorious has bought in the area. He also bought the Black Forge in his nearby hometown of Crumlin last year.
Not quite Manchester United
Conor McGregor had tweeted earlier this week asking people's opinion about buy Manchester United. This came after Ed Woodward had resigned as the clubs CEO following the collapse of the European Super League.
The Notorious tweeted, "Hey guys, I'm thinking about buying Manchester United! What do you think?". 
However, McGregor's investment in the Marble Arch pub should quell such speculation. This investment of €1.5/2 million comes after he had reportedly forked out €3 million to buy and renovate the Black Forge.
McGregor vs Poirier
McGregor does have a very impressive net worth. Most of his wealth has been accrued from his UFC career. However, the star hinted recently that he may not be involved with the organisation much longer.
McGregor is due to fight Dustin Porier in another rematch this Summer. Having beaten him in 2014, the Notorious lost out to the same opponent in January. This fight was also called into doubt after the pair sparked a row on social media, with Porier claiming that McGregor had not paid a a sum of €50,000 he had promised to Poirier's foundation.
Speaking to TSN, UFC president Dana White said, "There was a lot of chance that was going to fall apart. I saw some conspiracy theorists saying that was done to promote the fight, absolutely none of that was done to promote the fight, I can assure you of that".